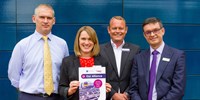 Network Rail and train operator Northern have officially launched an alliance between the two organisations to help provide passengers across the north of England with a better rail service.
The partnership will mean even closer working between the two organisations as part of a joint commitment to plan together to provide a better railway and resolve operational issues which have an impact on services as quickly and safely as possible.
The alliance will promote innovation and cost-effective ways of working, while delivering an even more efficient, safe and reliable service for passengers.
Network Rail owns, maintains and invests in the railway across Britain while Northern operates more than 2,500 daily trains across the north of England serving a population of nearly 15m people.
The alliance was launched this week in Manchester by Alex Hynes, managing director of Northern, Helen Kavanagh, head of access and alliancing at Northern, and Martin Frobisher and Rob McIntosh, Network Rail's managing directors who are responsible for the rail network in the north of England.
"As part of our national Railway Upgrade Plan to provide a better, more reliable and efficient railway for passengers, the network across the north of England is undergoing a wide-ranging modernisation programme including electrification, new sections of railway and upgraded stations.
"To deliver these improvements and minimise disruption as much as possible, it's essential we have an effective relationship with train operators. The alliance with Northern will mean that we continue to work closely together and develop new ways of working to deliver the improvements and benefits that we know passengers want to see."
Martin Frobisher, route managing director for Network Rail's London North Western route
"This agreement will transform our working relationship with Network Rail. We're already working closely with them on a variety of projects throughout the north of England, projects which when delivered will make a huge difference for our customers.
"It's fantastic to see our organisations fully committed to investing in our customers and improving the service we offer them. As part of this alliance, we are committed to setting standards for other industry colleagues to follow."
Alex Hynes, managing director for Northern
"The way to improve the railway for everyone in the north is to bring the people who run it closer together. I'm delighted to sign this alliance with Northern, which signals a step change in the way we work together, and which will ultimately deliver a better railway service for the millions of people who use it for work and leisure travel every single day."
Rob McIntosh, route managing director for Network Rail's London North Eastern and East Midlands route
About Network Rail
Network Rail owns, manages and develops Britain's railway – the 20,000 miles of track, 40,000 bridges and viaducts, and the thousands of signals, level crossings and stations (the largest of which we also run). In partnership with train operators we help people take more than 1.6bn journeys by rail every year - double the number of 1996 - and move hundreds of millions of tonnes of freight, saving almost 8m lorry journeys. We're investing £38bn in the railway by 2019 to deliver more frequent, more reliable, safer services and brighter and better stations.