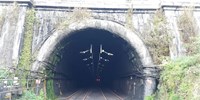 The Severn Tunnel reopened to rail passengers on Saturday, 22 October following the completion of six weeks of upgrade work to prepare it for electrification, which will result in more seats and faster, more reliable journeys for passengers.
Network Rail's 'orange army' worked day and night to install over eight miles of conductor rail which will eventually power a new fleet of electric trains through the 130 year-old tunnel. An extensive amount of work to prepare neighbouring Patchway Tunnels was also completed during the closure, which took place between 12 September and 21 October as part of Network Rail's Railway Upgrade Plan to provide a bigger and better railway for passengers.
"We are delighted to have delivered this vital milestone in the project to electrify the South Wales Mainline as part of our Railway Upgrade Plan to give passengers a bigger and better railway. We would like to thank passengers for their patience – without this six week closure it would have taken engineers up to five years to complete this vital upgrade, delaying electrification to South Wales.
"Electrification of the South Wales Mainline will transform the railway, bringing significant long-term benefits for passengers including faster, more frequent trains as well as a boost to economic growth for towns and cities across South Wales thanks to better connectivity to and from London." Andy Thomas, Network Rail Wales route managing director
"It has been a phenomenal team effort, involving over 250 engineers and close working with our principal contractors ABC Electrification and Babcock as well as numerous suppliers, designers and sub-contractors including Amco, Keltbray and Arup, to deliver this essential stage of the electrification project. I would like to thank every single member of the team that has worked on this iconic project for their hard work and dedication to deliver this upgrade successfully and on time.
"During the tunnel closure GWR high-speed train services were diverted between Swindon and Newport which increased journey times by approximately 35 minutes." Dan Tipper, project director at Network Rail Wales
"This work is a vital part of the modernisation of the railway between South Wales and London; which, once complete, will enable us to deliver more frequent services, more seats, and to reduce journey times.
"We would like to thank all of our passengers for their patience during the last six weeks. We worked closely with Network Rail and local government to make sure we kept customers on trains wherever possible and provided the quickest, most convenient journey to their destination, minimising disruption as best we could." Mark Youngman, GWR development manager for Wales
"This part of the electrification scheme was a huge challenge and we have all worked extremely hard to complete the work safely and on time. I am very proud of this team and what we have achieved in the last six weeks." John Skentelbery, tunnels operations director for ABC Electrification
About Network Rail
Network Rail owns, manages and develops Britain's railway – the 20,000 miles of track, 40,000 bridges and viaducts, and the thousands of signals, level crossings and stations (the largest of which we also run). In partnership with train operators we help people take more than 1.6bn journeys by rail every year - double the number of 1996 - and move hundreds of millions of tonnes of freight, saving almost 8m lorry journeys. We're investing £38bn in the railway by 2019 to deliver more frequent, more reliable, safer services and brighter and better stations.