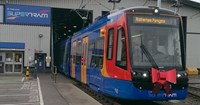 The Tram Train project in South Yorkshire will take a significant step towards completion in the coming weeks as construction work continues.
Engineers from Network Rail will replace College Road bridge in Rotherham. The old road bridge needs to be demolished and a new, higher one installed so that the overhead lines which will power the Tram Trains can be safely installed underneath. To allow the bridge to be replaced, College Road will be closed for 18 weeks from Friday, 14 April to Friday, 18 August 2017.
A temporary footbridge will be installed to allow pedestrians to access the town centre from Masbrough. Town centre traffic and local bus services approaching from Corporation Street will be diverted from Bridge Street to Centenary Way via Greasbrough Road.
Rob Cairns, Route Delivery Director for Network Rail, said: "We recognise that 18 weeks is a long time for the road to be closed and thank locals for their patience while we complete this essential part of this exciting project. Tram Trains will bring new travel choices for people living in South Yorkshire as well as being a first for the UK.
"This is a challenging project and there is still much to do, including the construction of the Tram Train stops at Rotherham Central and Parkgate and the completion of the overhead line power system. The work we have planned at the May bank holiday is a crucial step forward as we work with our partners to deliver the full Tram Train service from Sheffield city centre to Rotherham Central and Parkgate next year."
On the bank holiday weekend, Saturday 27 and Sunday, 28 May, the old bridge will be demolished using a crane which will be based on council land at the back of George Street. Work will also be carried out to bring the signalling system which controls Tram Train movements into operation. In order to complete this work safely, trains will be diverted between Meadowhall and Swinton and will not stop at Rotherham Central. Buses will run between Meadowhall and Swinton, calling at Rotherham Central.
Stephen Edwards, Executive Director for South Yorkshire Passenger Transport Executive (SYPTE), said: "Passengers in South Yorkshire will be the first in the country to benefit from pioneering Tram Trains. The pilot has the ability to transform transport connections both locally and nationally, and the College Road bridge engineering work is an important milestone towards making Tram Trains a reality from 2018."
Rotherham Council's Cabinet Member for Jobs and the Local Economy Cllr Denise Lelliott added that better transport connections would help to reinvigorate the local economy.
She said: "In recent weeks we have seen overhead masts being installed between Tinsley and Parkgate and work started on the construction of the Tram Train platform at Parkgate. The Tram Train project will complement the Council's ambitious plans for the borough. By continuing to develop the mixed retail offer at Rotherham and Parkgate, and by providing better linkages between Rotherham and Sheffield, we will attract more visitors into the town and create more local job opportunities."
About Network Rail
Network Rail owns, manages and develops Britain's railway – the 20,000 miles of track, 40,000 bridges and viaducts, and the thousands of signals, level crossings and stations (the largest of which we also run). In partnership with train operators we help people take more than 1.6bn journeys by rail every year - double the number of 1996 - and move hundreds of millions of tonnes of freight, saving almost 8m lorry journeys. We're investing £38bn in the railway by 2019 to deliver more frequent, more reliable, safer services and brighter and better stations.