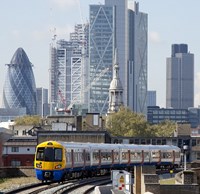 For the first time there is a body that brings together all the largest urban areas on transport as pteg changes its name to the Urban Transport Group. In its former guise pteg represented the six Passenger Transport Executives and successor bodies, but with governance change in the city regions, and with Transport for London coming on board, the group has decided the time was right for a new name to reflect its new role.
Alongside what are now the seven full members of the Urban Transport Group (with TfL joining the existing members which are South Yorkshire PTE, Merseytravel, North East Combined Authority, Centro, West Yorkshire Combined Authority, and Transport for Greater Manchester) there are three existing associate members (Strathclyde Partnership for Transport, Bristol and the West of England Authorities, Nottingham City Council).
The group also, today, set out its three main roles:
Making the case for urban transport
Acting as the nation's premier professional network for public sector urban transport professionals. A network which shares approaches that work and does more for less through collaborative working
Providing thought leadership for the sector by looking beyond the day-to-day to explore and address longer term challenges
The group will also be broadening its focus, as well as its geography, by strengthening the work it does in areas beyond its former public transport role – including on strategic highways, active travel, and freight and logistics.
In becoming the UK's voice on urban transport the group also aims to get more out of existing relationships with the EU in terms of legislative and funding opportunities as well as build stronger links with counterparts in other European countries and with the Union of International Public Transport (the global public transport network).
TfGM Chief Executive, Dr Jon Lamonte, who chairs the group, said:
"There is a consensus now around the power of investing in cities and as a single voice on urban transport we will be able to make a strong and effective case for how transport can support the growth of those economies. We are therefore delighted that Transport for London is joining us as full members as this will ensure that the Urban Transport Group really is the UK's voice on urban transport as well as strengthening our professional network immeasurable so we can all make the most from the opportunities that arise from accelerating devolution. These are exciting times for urban transport with transformational investment in devolved rail networks, new buses legislation on its way, and a more long term and strategic approach to improving the links between our cities. As a network we can help shape how these opportunities unfold so that each of our members can implement improvements in ways which best meet local priorities and circumstances.
As a united body we will also be able to significantly enhance our work with Government, the wider industry and our stakeholders to ensure an informed debate about urban transport priorities, followed up with cost effective delivery of real improvements for transport users in ways which will also meet the challenges of delivering economic growth, cutting carbon and air pollution, and facilitating greater housing provision. In developing this role our door is always open to discuss with transport authorities elsewhere the potential for joining our growing network."
Mike Brown MVO, London's Transport Commissioner, said:
"Urban transport is a key part of the devolution agenda. Integrated transport services provide people with connections to jobs and leisure, support new homes and businesses and drive economic growth.
We're delighted to be joining forces with other strategic bodies as part of the Urban Transport Group. Together, we serve 20 million people and we will make the case for sustained transport investment in city regions right across the country.
We will share our experience of running a devolved, integrated transport network that has delivered smart-ticketing, joined-up information and open data, and will work with other cities to improve the services that millions of customers across the country rely on every day."
Parliamentary Under Secretary of State for Transport, Andrew Jones MP, said:
"An efficient local transport network is vital to our economy. The Urban Transport Group, further strengthened by Transport for London becoming a member, will improve journeys for more than 20 million people in England's city areas. The seven transport authorities that form the group will share resources and expertise and plan ahead to meet rising demand for public transport, whilst tackling pollution and improving safety. I look forward to working with the Urban Transport Group to ensure investment in infrastructure is best used to improve lives across the UK."
Shadow Secretary of State for Transport, Lillian Greenwood MP, said:
"For nearly fifty years the PTEs have been at the forefront of delivering better transport networks for passengers, and Transport for London has transformed services in the capital since its creation. The combination of these groups and other urban transport authorities into a single body marks a historic moment in transport policy and we welcome it wholeheartedly.
High quality roads and public transport networks are vital if our cities are to grow sustainably. TfL and pteg have already secured important policy changes that will benefit passengers, including on smart ticketing and reforms to bus legislation, and I am sure that the Urban Transport Group will go from strength to strength.
At a time when transport authorities are trying to deliver and co-ordinate services against a backdrop of increasingly constrained resources, it's more important than ever that urban areas speak with one voice and make the case for further reform."
Chief Executive of UITP (the global public transport network), Alain Flausch, said:
"For the last few years we have noted that the UK has become one of the few, if not the most progressive country, in terms of public transport development and modernisation. As the public transport authority for the UK's capital city, Transport for London, has been leading the way, notably in terms of congestion charging, bus provision and tube modernisation.'
As for the rest of the country, it has been active too under the leadership of pteg. As one of the leading national networks, pteg produces high quality policy documents and initiatives on behalf of its members.
Acting together within UITP, we have appreciated the decisive role played by TfL and pteg, with Sir Peter Hendy acting as our President and leader for the years 2013-2015. With TfL joining pteg recently, we are convinced that this unification of the voice of all major UK public transport authorities will bring us strength and ambition when developing policy and professional positions."
About the Urban Transport Group
The Urban Transport Group brings together and promotes the interests of Britain's largest urban areas on transport. Our full members are Centro (West Midlands), Merseytravel (Merseyside), North East Combined Authority (North East), South Yorkshire PTE (Sheffield City Region), Transport for Greater Manchester, Transport for London, West Yorkshire Combined Authority. We also have associate members which are Bristol and the West of England Partnership, Nottingham City Council and Strathclyde Partnership for Transport. Between them our members serve over 20 million people.