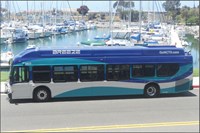 New Flyer of America Inc., a subsidiary of New Flyer Industries Inc. ("New Flyer" or the "Company"), the leading manufacturer of heavy-duty transit buses in the United States and Canada, announced today that ABQ RIDE in Albuquerque, NM ("ABQ") awarded New Flyer a contract for up to 83 heavy-duty 40-foot Xcelsior® compressed natural gas ("CNG") buses.
The contract, valued at approximately $44 million, is a firm order for 20 XN40 buses, with options for an additional 63 XN40 buses over five years.
ABQ has approximately 230 buses in its fleet, 135 of which have been built by New Flyer since 2004. This contract will be ABQ's second order of the Xcelsior model with the CNG propulsion system and will increase service capacity over the 40 routes they serve for 13 million passengers annually.
"We are pleased to be chosen once again to build Xcelsior buses for ABQ RIDE," said Paul Soubry, President and Chief Executive Officer of New Flyer. "This is a transit company that strives to keep their fleet current and efficient, and is committed to providing the best service possible to its ridership"
NOTE: All dollar amounts are stated in U.S. currency.
About New Flyer
New Flyer is the leading manufacturer of heavy-duty transit buses in the United States and Canada. The Company is the industry technology leader and offers the broadest product line of transit buses including drive systems powered by: clean diesel, natural gas, diesel-electric hybrid, electric trolley and now, battery-electric. All buses are supported by an industry-leading comprehensive warranty and support program, and service network. New Flyer also operates the industry's most sophisticated aftermarket parts organization, sourcing parts from hundreds of different suppliers and providing support for all types of transit buses.
The New Flyer group of companies employ over 3,300 team members with manufacturing, fabrication, parts distribution and service centers in both Canada and the United States. Over 32,000 New Flyer and NABI heavy-duty transit buses are in operation today.