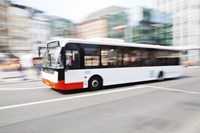 New Flyer Industries Inc. ("New Flyer" or the "Company"), the leading manufacturer of heavy-duty transit buses in Canada and the United States and Alexander Dennis Limited ("Alexander Dennis"), the United Kingdom's largest manufacturer of transit buses, double-decker buses and motor coaches, announced today that the manufacture of the 30-foot and 35-foot medium duty bus will transition in the fourth quarter of 2017 from New Flyer's St. Cloud, Minnesota plant to Alexander Dennis's new facility in Nappanee, Indiana.
In 2012, New Flyer and Alexander Dennis entered into a joint venture to collaborate and introduce a medium-duty low-floor bus in North America. Since 2014, 200 Buy America compliant MiDi® buses have been deployed in community shuttle service, and to corporate campuses and universities throughout North America.
"We were very pleased to collaborate with Alexander Dennis to launch the MiDi® in North America, having delivered buses to 22 operators in Canada and US," said Wayne Joseph, President, Transit Bus Business. "The decision to terminate the joint venture and transition the product to Alexander Dennis was a mutual one, allowing New Flyer to expand the production capacity of St. Cloud, Minnesota facility for our industry leading Xcelsior heavy-duty transit bus, and Alexander Dennis to combine manufacturing of the bus with their double-deck Enviro500 series bus in Nappanee, Indiana."
Alexander Dennis is a leader in the manufacture of durable and reliable midi buses, having delivered over 16,000 vehicles of this class globally, as well as being the world's largest double-deck bus manufacturer. The company has a strong and well-established North American presence dating back to 2004 when Alexander Dennis Inc ("ADI") was formed.
Colin Robertson, Chief Executive at Alexander Dennis commented, "We have enjoyed a strong and supportive relationship with New Flyer since the very start of our joint venture. It has been a privilege to partner with such a respected player in the North American market and after this promising start, now is the right time for us to take full ownership of this product. We are looking forward to this new chapter and to bringing the product to our own manufacturing facility in Nappanee."
With the termination of the joint venture, the manufacture, sales, marketing and aftermarket parts sales for this bus will be transitioned to ADI with the full support of New Flyer. New Flyer has recently completed manufacturing for all firm orders, and will continue to support all commitments made to existing MiDi® customers for care and product support.
About New Flyer
New Flyer is the largest transit bus and motor coach manufacturer and parts distributor in North America with fabrication, manufacturing, distribution and service centers in Canada and the United States and employs approximately 5,000 team members.
Through its Canadian and U.S. subsidiaries, New Flyer Industries Canada ULC and New Flyer of America Inc., the Company is North America's heavy-duty transit bus leader and offers the broadest transit bus product line under the brand Xcelsior® incorporating the broadest range of drive systems available, including: clean diesel, natural gas, diesel-electric hybrid, electric-trolley and now battery-electric. New Flyer actively supports over 44,000 heavy-duty transit buses (New Flyer, NABI and Orion) currently in service.
Through its Canadian and U.S. subsidiaries, Motor Coach Industries Limited and Motor Coach Industries, Inc., the Company is North America's leader in motor coaches, offering the MCI J4500,which is the industry's best-selling intercity coach for 11 consecutive years, and the MCI D-Series, the industry's best-selling coach line in North American motor coach history. MCI is also the exclusive distributor of Setra S417 and S407 in the United States and Canada. MCI actively supports over 28,000 motor coaches currently in service and offers 24-hour roadside assistance 365 days a year.
The Company also operates North America's most comprehensive aftermarket parts organization providing support for all types of transit buses and motor coaches. All buses and coaches are supported by an industry-leading comprehensive warranty, service and support network.
About Alexander Dennis
Alexander Dennis Limited (ADL) is one of the world's leading bus and coach manufacturers, with a history and heritage of design, engineering and manufacturing excellence that spans more than a century and facilities in UK, Europe, Hong Kong, Singapore, Malaysia, New Zealand and North America.
ADL tripled its turnover to more than USD 775 million (£600m) in 2016, with up to 50% of its revenue coming from international markets. This growth is attributable to a clear strategic focus on delivering lightweight, fuel efficient vehicles with industry-leading reliability, lowest cost of ownership and best-in-class aftermarket support.
ADL's North American division dates back to 2004 when Alexander Dennis Inc (ADI) was established. Alexander Dennis Canada Inc. (ADCI) and Alexander Dennis Mexico, S.A. de CV (ADMX), formed in 2013 and 2016 respectively, complete the company's growing North American presence.