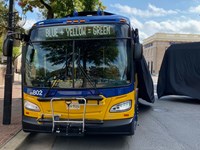 The Dash Bus service in Alexandria will be the first in Northern Virginia to have all-electric buses on its fleet. Officials unveiled the new electric buses at a ceremony on Monday.
The yellow and blue, 40-foot buses are New Flyer XE40s. They have painted green leaves fluttering down the side and the slogan "yellow + blue = green" printed on top.
Two buses shown at an unveiling event earlier today are the first of three planned to be deployed into regular service in the coming months and were manufactured by New Flyer. An additional three buses will be manufactured by Proterra.
In addition to these buses, DASH plans to implement eight more battery-electric buses into service by winter 2021.
The buses are undergoing testing and will be on routes in the coming months.
The vehicles don't produce any tailpipe emissions and are much quieter than diesel buses. They are said to last 175-225 miles between charge, according to New Flyer's website. A single electric bus can eliminate 50-70% of greenhouse gases emitted by similarly-sized diesel buses, Virginia Transportation Secretary Shannon Valentine said.
The city has plans to eventually transition its bus fleet to all-electric. The system already has many hybrid buses.
Alexandria Mayor Justin Wilson says the buses will help the city get one step closer to its climate goals.
"These buses are truly groundbreaking, not only for a sustainable transit system but also for a healthier environment that all Alexandrians can benefit from," Wilson says.
The state paid $5.1 million for the buses and chargers, utilizing money obtained through the Volkswagon emissions violation settlement and other transit capital money. Transit companies in Hampton Roads and Blacksburg, Va., also got funds for electric buses as part of the settlement.
Electric bus use is relatively new in the region. The D.C. Circulator got electric buses in 2018, and Montgomery County recently introduced four electric buses to its Ride On fleet. WMATA, the largest transit provider in the region with 1,600 buses in the fleet, has one test-pilot electric bus.
Virginia and Dominion Energy also announced a plan to electrify all school buses in the state by 2030.
About New Flyer

New Flyer operates as New Flyer of America Inc. and New Flyer Industries Canada ULC, subsidiaries of NFI Group Inc ("NFI Group"). New Flyer is North America's heavy-duty transit bus leader and offers the most advanced product line under the Xcelsior® and Xcelsior CHARGE™ brands, incorporating the broadest range of drive systems available, including clean diesel, natural gas, diesel-electric hybrid, trolley-electric, battery-electric and fuel cell-electric.