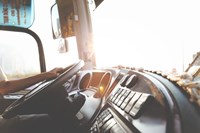 New Flyer of America Inc. ("New Flyer"), a subsidiary of NFI Group Inc. ("NFI"), one of the world's leading independent global bus manufacturers, today announced that the Central Ohio Transit Authority ("COTA") has exercised options for two Xcelsior CHARGE™ battery-electric, forty-foot heavy-duty transit buses. The order includes two ABB depot chargers and commissioning by New Flyer Infrastructure Solutions™ to support electric bus deployment and infrastructure development in Columbus, Ohio.
The purchase – part of a two-year contract with options to purchase an additional eight zero-emission Xcelsior CHARGE™ buses and supported by Federal Transit Administration ("FTA") funds – furthers COTA's 5-year Strategic Plan to improve customer experience, provide mobility options, achieve organizational excellence, and prioritize the use of data and analytics.
"New Flyer has proudly delivered over 135 transit buses to COTA since 2001," said Chris Stoddart, President, New Flyer. "In addition to significantly reducing greenhouse gas emissions, New Flyer's battery-electric Xcelsior CHARGE™ buses can save up to $125,000 in maintenance costs and up to $400,000 in fuel costs over its 12-year lifespan."
COTA is the public transit agency serving the Columbus metropolitan area and operating fixed-route buses, bus rapid transit, micro transit, and paratransit services, delivering over 19 million passenger trips annually. In 2018, COTA received the Outstanding Public Transportation System Achievement Award from the American Public Transportation Association ("APTA"). The same year, Columbus received a Smart City award from the U.S. Department of Transportation for its vision of reinventing mobility to improve quality of life, growth in the economy, better access to jobs, and greater sustainability. In 2020, COTA again received APTA's Outstanding Public Transportation System Achievement Award, securing the recognition twice in three years.
New Flyer has been leading innovation in mobility for nearly 90 years, and today supports growing North American cities with sustainable buses, technology, and infrastructure. It also operates the Vehicle Innovation Center, the first and only innovation lab of its kind dedicated to advancing bus technology and providing essential workforce development through electric bus training. New Flyer was the first bus manufacturer in the world to sign on to the Shared Mobility Principles for Livable Cities, and is currently developing automated bus technology to improve safety in public transit.
About New Flyer

New Flyer is North America's heavy-duty transit bus leader and offers the most advanced product line under the Xcelsior® and Xcelsior CHARGE™ brands. It also offers infrastructure development through New Flyer Infrastructure Solutions™, a service dedicated to providing safe, sustainable, and reliable charging and mobility solutions. New Flyer actively supports over 35,000 heavy-duty transit buses (New Flyer, NABI, and Orion) currently in service, of which 8,600 are powered by electric motors and battery propulsion and 1,900 are zero-emission.