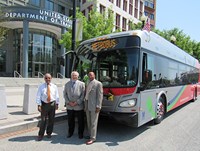 New Flyer Industries Inc. ("New Flyer" or the "Company"), the largest transit bus and motor coach manufacturer and parts distributor in North America, signaled its expansion in electric mass transportation today, showcasing the Xcelsior® XE40 electric bus it has delivered to Washington Metropolitan Area Transit Authority (WMATA) at the U.S. Department of Transportation (US DOT) Earth Day Fair.
The Earth Day Fair is designed for US DOT employees to learn about energy-efficient products that help improve air quality and the environment.
"New Flyer is honored to make its debut with WMATA at DOT Earth Day, especially as the zero- emission electric bus continues to gain popularity with transit authorities and their ridership," said Joe Gibson, New Flyer Vice President of National Sales. "We have unique strengths in this marketplace – the reliable Xcelsior is supported by the largest parts and 24/7 service support operation in North America. It's important to have the right equipment as more of our customers move towards electric propulsion, but essential to offer an electric bus service and training infrastructure that never sleeps."
Gibson led the tour of the electric bus today in front of US DOT headquarters in downtown Washington, noting that WMATA's Xcelsior XE40 bus is equipped with New Flyer Connect®, an onboard telematics systems and support service that will allow real-time remote monitoring of the battery-electric vehicle for optimal management and operational efficiency.
New Flyer is the leader in zero and low-emission electric transit buses, having delivered over 6,400 buses with electric propulsion systems including electric-trolley, electric-hybrid, fuel cell- electric, and battery-electric buses in 35, 40 and 60-foot configurations. "New Flyer's electric solutions cover all major group and mass transit needs," said Gibson.
New Flyer's Xcelsior XE40 battery-electric 40-foot bus accommodates 76 passengers (40 seated). WMATA is the second major metropolitan transit fleet in the United States to place New Flyer's battery-electric bus in service.
The Chicago Transit Authority (CTA) also has New Flyer Xcelsior XE40 buses in daily operation, offering passengers a cleaner, quieter ride with significant fuel and maintenance savings.
Within the next two years, New Flyer expects to deliver battery-electric buses to Portland, Los Angeles, Salt Lake City, Boston, Alameda County, CA and Albany, NY.
About New Flyer
New Flyer is the largest transit bus and motor coach manufacturer and parts distributor in North America with fabrication, manufacturing, distribution and service centers in Canada and the United States and employs approximately 5,000 team members.
Through its Canadian and U.S. subsidiaries, New Flyer Industries Canada ULC and New Flyer of America Inc., the Company is North America's heavy-duty transit bus leader and offers the broadest transit bus product line (Xcelsior® and MiDi® models), incorporating the broadest range of drive systems available, including: clean diesel, natural gas, diesel-electric hybrid, electric-trolley and now battery-electric. New Flyer actively supports over 42,000 heavy-duty transit buses (New Flyer, NABI and Orion) currently in service.
Through its Canadian and U.S. subsidiaries, Motor Coach Industries Limited and Motor Coach Industries, Inc., the Company is North America's leader in motor coaches, offering the MCI J4500,which is the industry's best-selling intercity coach for 11 consecutive years, and the MCI D-Series, the industry's best-selling coach line in North American motor coach history. MCI is also the exclusive distributor of Setra S417 and S407 in the United States and Canada. MCI actively supports over 28,000 motor coaches currently in service and offers 24-hour roadside assistance 365 days a year.
The Company also operates North America's most comprehensive aftermarket parts organization providing support for all types of transit buses and motor coaches. All buses and coaches are supported by an industry-leading comprehensive warranty, service and support network.