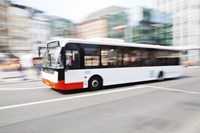 New Flyer of America Inc. ("New Flyer"), the U.S. subsidiary of New Flyer Industries Inc. (the "Company"), the largest transit bus and motor coach manufacturer and parts distributor in North America, announced it will invest USD $25 million in major building renovations and expansions at its Anniston, Alabama production campus.
This investment builds on New Flyer of America's commitment to American infrastructure, manufacturing, innovation, and jobs. It adds fabrication equipment that enhances component manufacturing, streamlines the weld process, expands the operational footprint, and adds capacity and an innovation center for zero-emission bus production.
"We are extremely fortunate to have both local and state cooperation and support for this project – a true partnership," said Wayne Joseph, President of New Flyer of America. "I specifically want to thank Governor Ivey and her team at the Department of Commerce, Secretary of Commerce Greg Canfield, Mayor Draper and City Manager Salley from the City of Anniston, and Alabama Power, for all of their time and effort on our behalf. This investment in process efficiency, operational capacity, and technological development further elevates Anniston as a leading manufacturing site for zero-emission vehicles, and invests in jobs and infrastructure in Alabama."
The New Flyer Anniston campus (formerly North American Bus Industries), which was acquired by New Flyer in 2013, consists of five buildings that manufactures transit buses from part fabrication, to high-strength frame welding, to final assembly. In 2015, New Flyer invested USD $20 million to transform the campus to a world-class LEAN manufacturing site capable of producing New Flyer's Xcelsior® heavy-duty bus platform.
"This investment not only enhances our technical capabilities, but also provides advanced air quality measures to provide the safest possible work environment for our team members," explained Kevin Wood, Senior Vice President of Manufacturing. "We are proud to invest in the development of innovative, industry-leading manufacturing and work environments."
The Company has over 50 years of experience in manufacturing zero-emission buses (ZEBs) and has 24 fabrication, manufacturing, distribution, and service centers. It employs more American workers than any other bus manufacturer in North America.
About New Flyer
New Flyer is the largest transit bus and motor coach manufacturer and parts distributor in North America with fabrication, manufacturing, distribution and service centers in Canada and the United States and employs approximately 5,000 team members.
Through its Canadian and U.S. subsidiaries, New Flyer Industries Canada ULC and New Flyer of America Inc., the Company is North America's heavy-duty transit bus leader and offers the broadest transit bus product line (Xcelsior® and MiDi® models), incorporating the broadest range of drive systems available, including: clean diesel, natural gas, diesel-electric hybrid, electric-trolley and now battery-electric. New Flyer actively supports over 42,000 heavy-duty transit buses (New Flyer, NABI and Orion) currently in service.
Through its Canadian and U.S. subsidiaries, Motor Coach Industries Limited and Motor Coach Industries, Inc., the Company is North America's leader in motor coaches, offering the MCI J4500,which is the industry's best-selling intercity coach for 11 consecutive years, and the MCI D-Series, the industry's best-selling coach line in North American motor coach history. MCI is also the exclusive distributor of Setra S417 and S407 in the United States and Canada. MCI actively supports over 28,000 motor coaches currently in service and offers 24-hour roadside assistance 365 days a year.
The Company also operates North America's most comprehensive aftermarket parts organization providing support for all types of transit buses and motor coaches. All buses and coaches are supported by an industry-leading comprehensive warranty, service and support network.