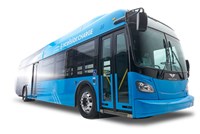 New Flyer of America Inc. ("New Flyer"), a subsidiary of NFI Group Inc. ("NFI"), one of the world's leading independent global bus manufacturers, today announced three new orders from the Washington Metropolitan Area Transit Authority ("WMATA") for a total of 25 forty-foot Xcelsior® clean-diesel buses, 75 forty-foot Xcelsior compressed natural gas ("CNG") buses, and ten sixty-foot articulated Xcelsior clean-diesel buses (a total of 120 equivalent units or "EUs"). The order converts 110 buses from the option backlog to firm orders.
The new order replaces older, end-of-life vehicles and delivers on WMATA's plan to improve transit service and reliability, while also increasing efficiency and sustainable mobility for residents in the capital region. In addition, the articulated buses deliver higher passenger capacity, allowing WMATA to move up to 115 passengers per bus along its busiest routes.
New Flyer has delivered nearly 1,400 buses to WMATA since 2001, including electric hybrids, zero-emission battery-electric, and low-emission compressed natural gas (CNG).
"Since WMATA's first Xcelsior arrived in 2011, we have continued to support its ridership growth with hundreds of safe, reliable, and efficient Xcelsior buses to keep America's capital moving," said Chris Stoddart, President, New Flyer. "With leading technology, buses, and infrastructure solutions, New Flyer is proud to support WMATA's move toward sustainable mobility while offering greater reliability, increased capacity, and cleaner air for the Washington metro community."
New Flyer has delivered over 10,000 of the Xcelsior heavy-duty transit bus model, together accumulating over one billion miles of revenue service across North America. Its CNG powered buses reduce fleet NOx (nitrogen oxides) emissions by 90% over conventional diesel-powered vehicles, and since 1994, New Flyer has delivered nearly 13,000 CNG buses across Canada and the U.S. Its clean diesel buses also use leading technology that results in highly efficient, virtually smoke-free engines, which can achieve low emissions and help reduce particulate emissions by 90% and NOx emissions by 95%.
WMATA is a tri-jurisdictional government agency operating public transit service in the Washington metropolitan area including the District of Columbia, Maryland, and Virginia. WMATA's Metrobus is the sixth busiest bus agency in the United States, providing over 62 million passenger trips per year with a fleet of more than 1,500 buses.
New Flyer has been leading innovation in transit buses for nearly 90 years. In 2017, it opened the Vehicle Innovation Center, the first and only innovation lab of its kind dedicated to advancing bus and coach technology, and in 2018 became the first bus manufacturer in the world to sign on to the Shared Mobility Principles for Livable Cities. It is the only provider of full-suite bus solutions in North America and has the broadest range of drive systems in North America.
About New Flyer

New Flyer is North America's heavy-duty transit bus leader and offers the most advanced product line under the Xcelsior® and Xcelsior CHARGE™ brands. It also offers infrastructure development through New Flyer Infrastructure Solutions™, a service dedicated to providing safe, sustainable, and reliable charging and mobility solutions. New Flyer actively supports over 41,000 heavy-duty transit buses (New Flyer, NABI, and Orion) currently in service, of which 7,300 are powered by electric motors and battery propulsion and 1,600 are zero-emission.