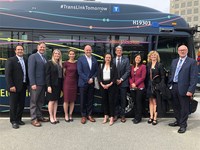 New Flyer Industries Canada ULC ("New Flyer"), a subsidiary of NFI Group Inc. ("NFI"), one of the world's leading independent global bus manufacturers, today celebrated alongside the South Coast British Columbia Transportation Authority ("TransLink") on the launch of its electric bus pilot operation, featuring two forty-foot, zero-emission, battery-electric Xcelsior CHARGE™ heavy-duty transit buses.
The two-and-a-half-year pilot is a part of the TransLink Tomorrow Program to help improve mobility in Metro Vancouver and furthers TransLink's goal of operating a fleet with 100 per cent renewable energy by 2050. The launch was celebrated today in Vancouver, with representatives from TransLink, CUTRIC, New Flyer, and all levels of government in attendance.
"This pilot is a major milestone toward achieving our sustainability targets," said Kevin Desmond, Chief Executive Officer of TransLink. "Our iconic trolleybuses have been running on electricity since 1948, and we're proud to integrate the first battery-electric buses to our fleet. These buses are a testament to a strong partnership and the common goal of creating a cleaner and greener future."
The pilot, operated in partnership with the Canadian Urban Transit Research and Innovation Consortium (CUTRIC), is part of the world's first multi-manufacturer interoperability demonstration for fast-charge electric buses and involves on-route high-powered charging stations integrating with local utility systems. It spans three communities across Canada (Vancouver, Brampton, and York Region) and will test interoperability of electric transit vehicles using a new standardized high-powered overhead charging system.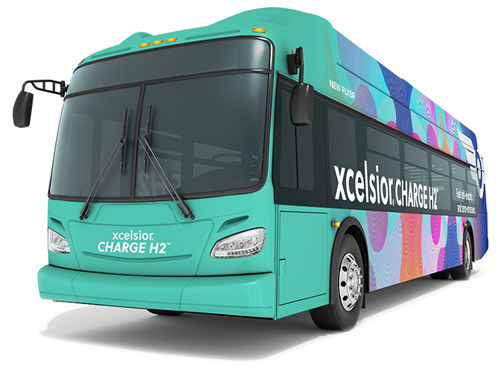 "New Flyer is pleased to support TransLink in the launch of zero-emission, battery-electric transit, and commends the TransLink team on its continued pursuit of innovative mobility and enhanced livability in the Vancouver metro area," said Jennifer McNeill, Vice President, Sales and Marketing. "Not only will this pilot improve community air quality, it will also shine a global light on Canadian innovation with interoperable, electric mobility brought to life."
New Flyer first delivered buses to TransLink in 1991, and today, New Flyer together with NFI subsidiaries MCI, ARBOC, Alexander Dennis, and NFI Parts, support TransLink with multiple bus propulsions and models, including transit buses, low-floor cutaway buses, and double deck buses.
Today's launch follows New Flyer's September 2018 announcement of TransLink's purchase of two forty-foot, zero-emission, battery-electric Xcelsior CHARGE™ heavy-duty transit buses as part of the CUTRIC Trial. In July 2019, New Flyer also announced it would supply six Xcelsior CHARGE™ buses to Brampton Transit, as a direct result of CUTRIC and Brampton Transit jointly securing $11.15 million in federal funding from Natural Resources Canada to support the adoption of zero-emission transit buses. The purchase followed an April 2018 commitment to partnering with CUTRIC on the trial by Brampton Transit and York Region Transit.
"Everyone in the industry is watching Canada now. This launch solidifies Canada's position as a global leader in the electrification of transportation, with the first ever interoperable charging system," said Josipa Petrunic, Chief Executive Officer, CUTRIC. "The investments made to see this project come to life are helping TransLink and Canada achieve their ambitious goals for greenhouse gas reduction through technology innovation."
The pilot, which includes chargers from ABB and Siemens Canada, will evaluate bus performance, maintenance, and customer experience, will begin operation on Route 100 between 22nd Street Bus Exchange and Marpole Loop. The pilot and future acquisition of six more battery-electric buses were supported by funding from the Government of Canada and BC Hydro.
About New Flyer

New Flyer is North America's heavy-duty transit bus leader and offers the most advanced product line under the Xcelsior® and Xcelsior CHARGE™ brands. It also offers infrastructure development through New Flyer Infrastructure Solutions™, a service dedicated to providing safe, sustainable, and reliable charging and mobility solutions. New Flyer actively supports over 41,000 heavy-duty transit buses (New Flyer, NABI, and Orion) currently in service, of which 7,300 are powered by electric motors and battery propulsion and 1,600 are zero-emission.