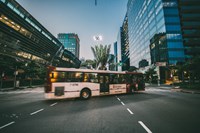 New Flyer will test the first self-driving transit buses in North America, but the Winnipeg-based company will run the historic experiments on the streets of Connecticut and not Winnipeg.
The demonstration project will test three battery-electric, heavy-duty transit buses with the goal of deploying them on Connecticut streets in 2022, according to David Warren, New Flyer's director of sustainable transportation. The project team is being led by the Connecticut Department of Transportation and New Flyer's American subsidiary.
Warren said if the pilot project is a success, self-driving buses could eventually travel Canadian roads. "We are headquartered in Canada, we do a good portion of our development work in Winnipeg," said Warren. "Anything we do in Connecticut will absolutely apply in Canada one day."
However, Canadian laws would have to change to test such buses throughout the country. Right now, only Ontario allows the testing of self-driving vehicles on public roads.
Warren said the project is the first of its kind, relying on artificial intelligence and sensor technology that is "state of the art."
Warren said technology called Lidar uses laser and artificial intelligence equipment to help the bus make decisions based on its evaluated surroundings.
"It's really emerging technology, Lidar, which is essentially a laser range finding type system that helps define what the surroundings are for the bus," said Warren.
Even with the buses fully equipped with the latest technology, Warren said they plan to have operators on board during the pilot project.
"It's not necessary long term, but operators will be there for demonstration and safety measures," said Warren.
Warren said Connecticut was a good location for the pilot project because it has rapid-transit lines and the state has separate lanes for this project.
The buses are all electric and will have charging infrastructure, which has already been tested, even in Canada. The goal is to have the buses on the road by 2022 and to help make transportation more sustainable.
"This is an incredible moment for the advancement of automated technology in public transit, and for the continued development of safe, smart, sustainable,and connected mobility across North America," said Chris Stoddart, president of New Flyer, in a media release.
About New Flyer

Passengers around the country are seeking modern transportation options they can feel good about as traffic congestion, costs and air quality continue to saddle today's growing cities. That is why New Flyer is engineering progressive transit technology that serves our communities and makes our cities smarter, while safeguarding precious resources. In doing so, we are creating jobs, fortifying North America's infrastructure and modernizing the industry and the world around us.