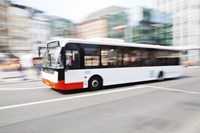 New Flyer of America Inc., ("New Flyer") the U.S. subsidiary of New Flyer Industries Inc. (the "Company"), the largest transit bus and motor coach manufacturer and parts distributor in North America, today announced that the San Francisco Municipal Transportation Agency (SFMTA) has awarded an option order for 185 Xcelsior® trolley-electric, forty-foot, heavy-duty buses. These options are exercised off of King County Metro's 2013 trolley-electric bus contract, which is the largest zero-emission bus (ZEB) procurement in North America to date.
The SFMTA decision to expand its ZEB fleet is focused on delivering improved passenger experience and environmental impact, and fulfilling one of SFMTA's strategic core values of "Clean, Green, and Quiet Mobility". The move to add 185 ZEBs follows two prior option orders awarded by SFMTA over the past year for 93 (or 186 equivalent units) Xcelsior sixty-foot articulated trolley-electric ZEBs.
"We are proud to continue our longstanding relationship with the City of San Francisco," stated Wayne Joseph, President of New Flyer of America. "Since 1977, New Flyer and the SFMTA have collaborated to promote the use of electric energy to power transit buses, and we look forward to delivering greater community and environmental impact with the expanded presence of ZEBs, powered by clean propulsion."
The Company has over 40 years of experience in manufacturing ZEBs and has 14 fabrication, manufacturing, distribution, and service centers across the U.S.
About New Flyer
New Flyer is the leading manufacturer of heavy-duty transit buses in the United States and Canada. The Company is the industry technology leader and offers the broadest product line of transit buses including drive systems powered by: clean diesel, natural gas, diesel-electric hybrid, electric trolley and now, battery-electric. All buses are supported by an industry-leading comprehensive warranty and support program, and service network. New Flyer also operates the industry's most sophisticated aftermarket parts organization, sourcing parts from hundreds of different suppliers and providing support for all types of transit buses.
The New Flyer group of companies employ over 3,300 team members with manufacturing, fabrication, parts distribution and service centers in both Canada and the United States. Over 32,000 New Flyer and NABI heavy-duty transit buses are in operation today. Further information is available on New Flyer's website at http://www.newflyer.com
The common shares and convertible unsecured subordinated debentures of the Company are traded on the Toronto Stock Exchange under the symbols NFI and NFI.DB.U, respectively.