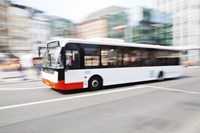 New Flyer of America Inc., a subsidiary of New Flyer Industries Inc. ("New Flyer" or the "Company"), the largest transit bus and motor coach manufacturer and parts distributor in North America, announced today that Santa Clara Valley Transportation Authority ("VTA") has awarded New Flyer with a contract for 55 (or 110 equivalent units) New Flyer Xcelsior® sixty-foot heavy-duty articulated buses.
The contract includes firm orders for 47 Xcelsior 60-foot diesel-electric hybrid buses, valued at approximately USD $51 million. In addition, up to eight additional 60-foot buses may be exercised as options over the next year. The initial 47 XDE60 buses will replace older buses that have reached the end of their useful service life, and continue VTA's environmental committment in the Santa Clara Valley.
Public transit in itself is an environmentally friendly mobility option. Adding the "new" New Flyer hybrid articulated buses to VTA's fleet will amplify the environmental benefits.
"New Flyer is thrilled to be a partner in VTA's Sustainability Program," said Paul Smith, New Flyer Executive Vice President of Sales and Marketing. "These new Xcelsior 60-foot hybrid articulated buses reduce traffic congestion, carry more passengers and reduce CO2 emissions by up to 46% per passenger in an urban environment, compared to a conventional 40-foot diesel heavy-duty transit bus."
The vehicles are equipped with a BAE APS3 HybriDrive propulsion, and will be delivered to VTA throughout 2018.
About New Flyer
New Flyer is the largest transit bus and motor coach manufacturer and parts distributor in North America with fabrication, manufacturing, distribution and service centers in Canada and the United States and employs approximately 5,000 team members.
Through its Canadian and U.S. subsidiaries, New Flyer Industries Canada ULC and New Flyer of America Inc., the Company is North America's heavy-duty transit bus leader and offers the broadest transit bus product line (Xcelsior® and MiDi® models), incorporating the broadest range of drive systems available, including: clean diesel, natural gas, diesel-electric hybrid, electric-trolley and now battery-electric. New Flyer actively supports over 42,000 heavy-duty transit buses (New Flyer, NABI and Orion) currently in service.
Through its Canadian and U.S. subsidiaries, Motor Coach Industries Limited and Motor Coach Industries, Inc., the Company is North America's leader in motor coaches, offering the MCI J4500,which is the industry's best-selling intercity coach for 11 consecutive years, and the MCI D-Series, the industry's best-selling coach line in North American motor coach history. MCI is also the exclusive distributor of Setra S417 and S407 in the United States and Canada. MCI actively supports over 28,000 motor coaches currently in service and offers 24-hour roadside assistance 365 days a year.
The Company also operates North America's most comprehensive aftermarket parts organization providing support for all types of transit buses and motor coaches. All buses and coaches are supported by an industry-leading comprehensive warranty, service and support network.