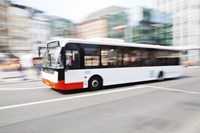 New Flyer of America Inc. ("New Flyer"), the U.S. subsidiary of New Flyer Industries Inc. ("NFI Group"), the largest transit bus and motor coach manufacturer and parts distributor in North America, today announced that the Valley Metro Regional Public Transportation Authority ("RPTA" or "Valley Metro") and City of Phoenix Public Transit Department, together through a joint procurement, have awarded New Flyer with a firm contract for 199 Xcelsior® compressed natural gas (CNG), forty-foot heavy-duty transit buses, which will be converted from New Flyer's backlog to a firm order.
The contract, which was supported by Federal Transit Administration funding and includes options for 197 buses over five years, is the second joint procurement for RPTA and the City of Phoenix. The buses will be deployed on Valley Metro's regional transit system as well as City of Phoenix routes starting 2018, and support Valley Metro's 2016-2020 strategic plan to grow transit ridership and advance the value of transit.
"We are proud to continue our longstanding relationship with Valley Metro and the City of Phoenix," stated Wayne Joseph, President of New Flyer of America. "For over ten years, New Flyer has provided public transportation in Arizona that helped support regional and city growth. We are proud to now provide CNG buses that will help lower emissions, as well as strengthen transit ridership in communities with safe and reliable bus service."
About NFI Group
NFI Group is the largest transit bus and motor coach manufacturer and parts distributor in North America, with 31 fabrication, manufacturing, distribution, and service centers across Canada and the U.S. employing over 5,800 team members.
It is North America's heavy-duty transit bus leader and offers the largest transit bus product line under the brand Xcelsior®, incorporating the broadest range of drive systems available, including: clean diesel, natural gas, diesel-electric hybrid, trolley-electric, and battery-electric. NFI Group actively supports over 44,000 heavy-duty transit buses (New Flyer, NABI, and Orion) currently in service, of which 6,400 are powered by electric and battery propulsion.
NFI Group is also North America's motor coach market leader offering the Motor Coach Industries Inc. (MCI) J-Series, the industry's best-selling intercity coach for 11 consecutive years, and the MCI D-Series, the industry's best-selling motor coach line in North American history. MCI is also the exclusive distributor of Daimler's Setra S 417 and S 407 motor coaches in the United States and Canada. MCI actively supports over 28,000 coaches currently in service.
NFI Group also operates North America's most comprehensive parts organization, NFI Parts™, providing parts, technical publications, training, and support for its OEM product lines (transit buses and motor coaches). All buses and coaches are also supported by an industry-leading comprehensive warranty, service, and support network.