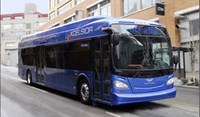 New Flyer of America Inc. ("New Flyer"), the U.S. subsidiary of NFI Group Inc. ("NFI Group"), the largest transit bus and motor coach manufacturer and parts distributor in North America, today announced an order from Washington Metropolitan Area Transit Authority ("WMATA") for twelve sixty-foot articulated New Flyer Xcelsior® diesel-electric hybrid buses (24 equivalent units). The order converts 12 buses from the option backlog to firm orders.
The buses will be propelled by low-emission, hybrid technologies that reduce air pollution and help WMATA achieve its goal of reducing greenhouse-gas emissions. The articulated, sixty-foot Xcelsior buses also deliver high-capacity transit along key WMATA routes, with 115 passenger capacity. Funding was supported by Federal Transit Administration ("FTA") grants.
"New Flyer is proud to offer innovative, low-emission transit solutions for WMATA that positively impact the nation's Capitol by reducing emissions and also moving Washingtonians with greater efficiency," said Wayne Joseph, President, New Flyer of America. "Sustainable transportation is at the heart of New Flyer design, and we are proud to continue our 90-year legacy with more low and no-emission bus options than any other North American transit manufacturer."
WMATA provides approximately 400,000 trips each weekday in the District of Columbia, Maryland, and Virginia. WMATA's Metrobus is the sixth busiest bus agency in the United States, with a fleet of more than 1,500 buses. New Flyer has delivered nearly 1,400 buses to WMATA since 2001, including electric hybrids, zero-emission battery-electric, and low-emission compressed natural gas (CNG).
About New Flyer

New Flyer is North America's heavy-duty transit bus leader and offers the most advanced product line under the Xcelsior® and Xcelsior CHARGE™ brands. New Flyer actively supports over 44,000 heavy-duty transit buses (New Flyer, NABI, and Orion) currently in service, of which 7,300 are powered by electric motors and battery propulsion and 1,600 are zero-emission.