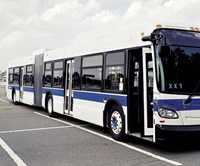 New Flyer of America Inc., a subsidiary of New Flyer Industries Inc., the leading manufacturer of heavy-duty transit buses in the United States and Canada, announced today that the Metropolitan Council of Minneapolis, St. Paul, Minnesota, exercised options for 30 heavy-duty 60-foot Xcelsior® XD60 clean diesel buses (or 60 equivalent units or "EUs").
Metropolitan Councilis the regional policy-making body, planning agency, and provider of essential services for the Twin Cities metropolitan area, with a mission to foster efficient and economic growth for a prosperous region.
The buses will be operated by Metro Transit ("Metro") which provides an integrated network of buses, light rail and commuter trains as well as resources for those who carpool, vanpool, walk or bike in the Twin Cities. Metro is one of the country's largest transit systems, providing roughly 90 percent of the 78 million bus trips taken annually in the Twin Cities. Metro Transit has a service area spanning 123 bus routes, with an additional six bus routes operated under contract with Maple Grove Transit. The additional 30 XD60 buses will be used to support the A-Line expansion of bus rapid transit set to open in 2016.
The contract, originally signed in March of 2014 was a firm order for 83 XD60 60 foot articulated buses (166 EUs), with options for up to 88 additional XD60 buses (176 EUs).
"We appreciate our long term relationship with Metro and are excited to be contracted to build additional Xcelsior XD60 buses for them," said Paul Soubry, President and Chief Executive Officer of New Flyer. "Metro is a first class transit organization and we are very proud to be able to build buses in the same community where they will be operated. We are excited to see the growth in Metro's Bus Rapid Transit service and appreciate the confidence expressed in New Flyer. Built for Minnesotans by Minnesotans."
NOTE: All dollar amounts are stated in U.S. currency.
About New Flyer
New Flyer is the leading manufacturer of heavy-duty transit buses in the United States and Canada. The Company is the industry technology leader and offers the broadest product line of transit buses including drive systems powered by: clean diesel, natural gas, diesel-electric hybrid, electric trolley and now, battery-electric. All buses are supported by an industry-leading comprehensive warranty and support program, and service network. New Flyer also operates the industry's most sophisticated aftermarket parts organization, sourcing parts from hundreds of different suppliers and providing support for all types of buses.
The New Flyer group of companies employ over 3,300 team members with manufacturing, fabrication, parts distribution and service centers in both Canada and the United States. Over 32,000 New Flyer and NABI heavy-duty transit buses are in operation today. Further information is available on New Flyer's website at http://www.newflyer.com.
On November 10, 2015 New Flyer announced that it has entered into a definitive agreement to acquire North America's leading motor coach manufacturer and parts and service supplier Motor Coach Industries International, Inc. ("MCI"). The completion of the transaction is subject to customary closing conditions including U.S. antitrust and Canadian Competition Act approvals and is expected to close by the end of 2015.