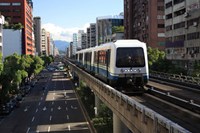 Advanced IP/MPLS network to support operational and passenger railway communications on an expansion of the metro system in Argentina's largest city
Phase one of the project delivers communications along 7.2 km of the metro line, serving 11 stations
Nokia has been selected by Consortium Techint Dycasa UTE to deploy a communications network for the extension of the Buenos Aires Metro line H, which serves Argentina's largest city. The communications network supplied by Nokia will support a variety of operational and passenger services on Metro line H, which is used by nearly 100,000 passengers daily, and connects several other lines in this busy metro system.
For the project, Nokia is supplying a wired and wireless communications network that comprises data transmission infrastructure, operational telephony, radio communications (TETRA), passenger information display and public announcement systems and close circuit television (CCTV). Consortium Techint Dycasa UTE has overall responsibility for the expansion, which in its first phase will extend Metro line H from 5.5 km to 7.7 km and introduce three new metro stops.
The data transmission infrastructure is built with the Nokia 7705 Service Aggregation Router (SAR), a highly secure, resilient and reliable Internet Protocol/Multi-protocol Label Switching (IP/MPLS) router, and is managed by the company's 5620 Service Aware Manager SAM (SAM). The 7705 SAR is supporting many services including mission critical TETRA radio communication, interconnecting theTETRA base stations along the Metro Line H.
Nokia also is supplying and integrating components from third parties (LAN Switches, IP/PBX, CCTV, Intelligent Billboards, PA/GA) , and providing professional services including project management, engineering, design, supply, commissioning, and integration testing and support.
The contract highlights Nokia's growing business with customers outside of the traditional telecommunications market who also have a need for 'carrier-class' networks to support their operations. Nokia has established a strong record of success in the railway industry in particular, providing mission-critical networks to more than 100 passenger and freight railway operators globally.
Javier Rey, head of Sales, Global Enterprise & Public Sector LATAM at Nokia, said "Modern metro systems demand modern communications networks. The deployment of an IP-based network in the Buenos Aires metro system will support a wide range of both operational and passenger services for metro users in Argentina's largest city. Nokia has an extensive history working with railway operators, both freight and passenger, to improve the safety and efficiency of their operations, and we look forward to participating in a variety of such modernization efforts throughout Latin America."
About Nokia
Nokia is a global leader in the technologies that connect people and things. Powered by the innovation of Nokia Bell Labs and Nokia Technologies, the company is at the forefront of creating and licensing the technologies that are increasingly at the heart of our connected lives.
With state-of-the-art software, hardware and services for any type of network, Nokia is uniquely positioned to help communication service providers, governments, and large enterprises deliver on the promise of 5G, the Cloud and the Internet of Things.