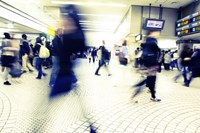 Company to manage IP/MPLS network for S-Bahn Berlin that supports train dispatch and passenger information critical for safety, security and efficiency
Deal highlights the growing potential for managed services projects outside of the traditional telecommunications sector
Nokia has been selected by DB Netz AG, a subsidiary of Deutsche Bahn AG, to manage an advanced communications network for S-Bahn Berlin. The network helps ensure safety, security and efficient operations on the railway system operating in and around Berlin. Nokia will provide managed services for S-Bahn Berlin's Internet Protocol/Multi-protocol Label Switching (IP/MPLS) network, which hosts a video system supporting train dispatch, and is supporting a passenger information system for 166 stations. The railway system of S-Bahn Berlin is 326 km long and serves more than 400 million passengers per year.
This multi-year agreement expands Nokia's existing relationship with Deutsche Bahn with regard to S-Bahn Berlin. Previously, Nokia supplied the IP/MPLS technology to support train dispatch and passenger information. Now DB Netz AG has turned to Nokia to take on the end-to-end management of the IP/MPLS network for S-Bahn Berlin, including key operational processes such as incident management, problem management, advanced technical support, performance management, service desk and field services dispatching. The intent of the agreement is to ensure continuous availability of the communications network, including the video management system and passenger information system, which helps to reduce delays and ultimately, improve customer satisfaction.
This agreement highlights Nokia's progress in extending its managed services expertise into markets beyond its traditional telecommunications service provider base like the railways segment.
Stefan Künzler, managed services market lead for Nokia, said: "Safety, security and efficiency are paramount concerns for railway operators. The willingness of DB Netz to outsource critical processes that can impact important performance requirements at S-Bahn Berlin is a testament to Nokia's managed services expertise and the customer's trust in our capabilities."
Oliver Weiss, project leader at S-Bahn Berlin, said: "Being on-time and having reliable transport is what passengers are expecting from metropolitan railways. Nokia is in the position to provide an important contribution by maintaining and operating the IP/MPLS network which is hosting our applications with great accuracy and the shortest possible reaction times."
About Nokia
Nokia is a global leader in the technologies that connect people and things. Powered by the innovation of Nokia Bell Labs and Nokia Technologies, the company is at the forefront of creating and licensing the technologies that are increasingly at the heart of our connected lives.
With state-of-the-art software, hardware and services for any type of network, Nokia is uniquely positioned to help communication service providers, governments, and large enterprises deliver on the promise of 5G, the Cloud and the Internet of Things.