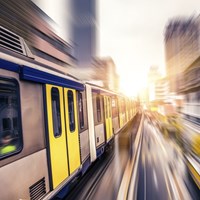 Project part of modernization of line connecting Wonju and Gangneung in preparation for Korea hosting a major international sporting event in 2018
KRNA to deploy LTE-R technology for modernization of communications network supporting mission-critical services, such as signaling at speeds of up to 250 km/h
Nokia has been selected by the Korea Rail Network Authority (KRNA) as a supplier for the world's first LTE-R mobile broadband network to support railway operations and employee services. The network will be deployed on a railway line between Wonju and Gangneung as part of preparations for the major international sporting event being hosted by the country in 2018. KRNA is responsible for the development and maintenance of railway infrastructure in South Korea as well as a number of other countries.
The communications network for KRNA will be based on LTE-R technology, a version of 4G LTE technology that is being developed to meet the mission-critical service requirements of railway operators. The network will support both operational and maintenance services on a high-speed commercial railway line operating at speeds of up to 250 km/h.
KRNA's LTE-R network will provide secure, reliable, high-speed connectivity between trains, stations and other railway facilities between Wonju and Gangneung. The network will also be designed to interoperate with other LTE networks supporting public safety and maritime operations as well as legacy VHS (very high frequency) and TRS (trunked radio system) radio networks. This project is intended to serve as a model for future LTE-R deployments, and help further define LTE-R standardization efforts.
For this project, Nokia will supply radio access network (RAN) base stations (eNodeBs) along with Nokia NetAct(TM), the first major virtualized network management software for mobile networks. NetAct delivers best-in-class applications for the railway operations and employee services management of KRNA. It also delivers advanced assurance capabilities as part of Nokia's comprehensive, multi-domain Service Assurance program, which provides closed-loop automation to drive greater network agility and optimization. Nokia systems integration and deployment services will help to establish the new LTE-R network.
Andrew Cope, head of Korea at Nokia, said: "South Korea has been a world leader in the use of mobile broadband technology to make public services of all kinds safer, more efficient and reliable. With a thirty-year history in the delivery of GSM-R mobile networking technology for railways, and as a pioneer in the development of LTE-R solutions, we are pleased to partner with KRNA to bring these cutting edge capabilities to the country as they prepare to host one of the world's premier sporting events."
About Nokia
Nokia is a global leader in the technologies that connect people and things. Powered by the innovation of Nokia Bell Labs and Nokia Technologies, the company is at the forefront of creating and licensing the technologies that are increasingly at the heart of our connected lives.
With state-of-the-art software, hardware and services for any type of network, Nokia is uniquely positioned to help communication service providers, governments, and large enterprises deliver on the promise of 5G, the Cloud and the Internet of Things.