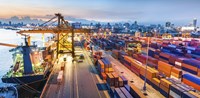 XPO Logistics, Inc. has completed the purchase of a 67% interest in Norbert Dentressangle SA, at a price of 217.50 euros per share, in accordance with the previously announced agreement between the two companies. XPO Logistics is now a top ten global provider of transportation and logistics services.
More than 52,000 employees are now flying the XPO Logistics flag, adept at helping customers with the efficient management of their supply chains on both a local and international scale.
Iconic red trucks, now proudly announcing #WEAREXPO, will begin transporting customers' freight on European roads. XPO Logistics trucks will also debut at the Grand Départ of the Tour de France this July, continuing a long-standing partnership as the official logistics partner for this renowned sporting event.
Hervé Montjotin, Europe CEO and President of XPO Logistics and Chairman of the Management Board of Norbert Dentressangle SA, is delighted: "We are very pleased to confirm the closing of the transaction announced in April. Thanks to the speedy completion of this acquisition, we can begin our integration as part of XPO Logistics without delay and fully commit to an ambitious business development plan, supported by a broader service offering and an expanded capacity for innovation".
Facts about XPO Logistics:
Annual revenue of approximately US$9.2 billion
More than 52,000 employees
More than 850 locations in 27 countries
The European leader in outsourced e-fulfilment
The global contract logistics market leader with 12 million m2 of warehouse space
The largest fleet in Europe, with 7,700 owned trucks, 3,200 trucks contracted through independent owner operators, and access to an additional 12,000 independent carriers
One of the largest transportation and logistics companies serving North America, with leading positions in freight brokerage, contract logistics, intermodal, last mile logistics for heavy goods and expedite, and with a growing position in global forwarding
A continued company-wide focus on world-class customer service grounded in ethical conduct and an ongoing commitment to compliance with all applicable laws
For further information: www.norbert-dentressangle.com and www.xpo.com
About XPO Logistics, Inc.
XPO Logistics, Inc. (NYSE: XPO) is a top ten global provider of cutting-edge supply chain solutions to the most successful companies in the world. The company provides high-value-added services for surface transportation, including freight brokerage, intermodal, last mile and expedite; highly engineered contract logistics; warehousing and distribution; and global forwarding by ground, air and sea. XPO serves more than 30,000 customers with a highly integrated network of over 52,350 employees and 863 locations in 27 countries.