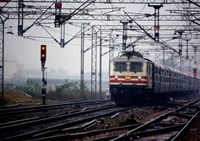 The Office of Rail and Road has today published safety principles it expects train companies to follow when rolling out and managing Driver Controlled Operation (DCO).
Six high level principles have been drawn up in consultation with industry and the trade unions. They are designed as a framework for train companies who are considering introducing, or who are operating, DCO.
The Principles set out that DCO schemes need to be well planned, with appropriate implementation timescales and developed against a shared understanding of how to handle any issues which need to be addressed.
The Principles are part of the rail regulator's overall approach to railway safety which helps train companies and their staff understand what is needed to comply with health and safety requirements. This is part of our ongoing work with industry to continuously improve the approach to all types of train dispatch.
Ian Prosser, HM Chief Inspector of Railways, ORR, said:
"ORR's Principles are designed to give guidance to industry about how best to plan and implement driver controlled operation. The most important element is planning new arrangements well in advance, talking with staff and their representatives to address concerns and ensure they are informed about the progress of plans.
"These Principles reinforce our view that suitable equipment, proper procedures and competent staff must be in place for the safe implementation of driver control operation."
About The Office of Rail and Road (ORR)
The Office of Rail and Road is the independent safety and economic regulator for Britain's railways and monitor of Highways England.
We are here to ensure the network operates safely, reliably and provides value for taxpayers and customers. We safeguard the public and the workforce by regulating the rail industry's health and safety performance. We hold Network Rail to account – and we require it to provide passengers with a punctual, reliable service. We make sure that train and freight operating companies have fair access to the rail network, and that the market is competitive and fair.