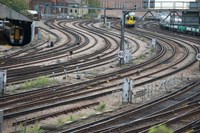 Network Rail is taking action to improve planning and delivery of rail enhancements, the Office of Rail and Road (ORR) concluded today. This follows the regulator's investigation into the company's delivery of a multi-billion pound enhancement programme on Britain's railways.
Network Rail committed to deliver a challenging £13bn enhancements portfolio to improve performance and capacity on Britain's railways, in its current funding period between 2014-2019. In November 2014, ORR raised concerns about project deliverability and cost increases, and after a significant number of milestones were missed, launched an investigation in March 2015 to understand the reasons for enhancements going wrong.
ORR's investigation found systemic weaknesses in Network Rail's handling of its enhancement programme including poor processes for setting initial project requirements, no defined framework for managing complex programmes, a lack of portfolio management capability and low productivity. Together these issues have resulted in significant underestimates of project timescales, and impacted on operational performance and costs.
In response to ORR's investigation findings, Network Rail has worked with the regulator to identify and address its weaknesses through the development of an enhancement improvement plan. The plan will drive improvements in the way Network Rail manages its relationships with project sponsors, ensure safety is considered at a design stage, and reform how costs and risks are estimated, alongside changes in project governance, deliverability assessment and monitoring.
ORR will hold Network Rail to account for delivering the improvements needed, ensuring the plan is fit for purpose and put into practice. While it will be a significant and long-term challenge for the company to integrate and embed the improvements into business as usual, they are essential to protect the investment which is being funded by taxpayers, passengers and freight customers.
ORR chief executive Richard Price said:
Network Rail has been entrusted with billions of pounds to modernise Britain's rail network. ORR has been closely monitoring the company's progress during the first year of the current funding period, and has found evidence of weaknesses in Network Rail's capability to develop and deliver major infrastructure enhancement projects. Network Rail's response to our investigation findings has been positive and collaborative. We welcome its enhancement improvement plan, which requires significant changes to the company's processes, systems, culture and capability. ORR is now closely monitoring Network Rail's implementation of the necessary improvements, as they are fundamental to ensuring delivery of enhancements on time and budget for passengers and customers.
About the Office of Rail and Road (ORR)
The Office of Rail and Road is the independent safety and economic regulator for Britain's railways and monitor of Highways England.
We are here to ensure the network operates safely, reliably and provides value for taxpayers and customers. We safeguard the public and the workforce by regulating the rail industry's health and safety performance. We hold Network Rail to account – and we require it to provide passengers with a punctual, reliable service. We make sure that train and freight operating companies have fair access to the rail network, and that the market is competitive and fair.
As Highways Monitor we are responsible for monitoring Highways England's management of the strategic road network – the motorways and main 'A' roads in England.