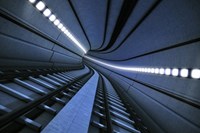 The Office of Rail and Road ("ORR") and Autorité de Régulation des Activités Ferroviaires et Routières ("Arafer") are the responsible bodies for the regulation of the Chanel Fixed Link. Both organisations have published today their opinions on Eurotunnel's 2018 Network Statement.
Both regulators call on Eurotunnel to improve the presentation and transparency of the applicable charging principles, as well as the resulting charges for use of the cross-border tunnel by train operators.
It is the duty of both regulators to ensure that access conditions to the Channel Fixed Link managed by Eurotunnel are transparent and fair for all train operators. This is intended to increase the confidence of existing users as well as facilitating use of the infrastructure by new entrants.
Eurotunnel's 2018 Network Statement, which will come into force in December 2017, provides the technical, contractual and charging information necessary for an operator to run trains through the Channel Fixed Link.
About ORR
The Office of Rail and Road is the independent safety and economic regulator for Britain's railways and monitor of Highways England.
We are here to ensure the network operates safely, reliably and provides value for taxpayers and customers. We safeguard the public and the workforce by regulating the rail industry's health and safety performance. We hold Network Rail to account – and we require it to provide passengers with a punctual, reliable service. We make sure that train and freight operating companies have fair access to the rail network, and that the market is competitive and fair.