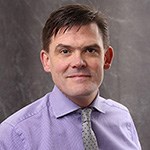 The Office of Rail and Road (ORR) has appointed Graham Richards substantively as Director, Railway Performance and Planning. Graham was previously acting as interim in the role following the departure of the previous incumbent.
ORR Chief Executive, Joanna Whittington, said:
"Graham will continue to play a vital role in helping to shape the future of the railways for which he is very well qualified - supporting reform while ensuring the sector provides value for money for customers and taxpayers."
Graham is a chartered transport planner with experience working on a range of different aspects, including: the delivery of road and rail projects; integrating major developments with existing transport networks; planning operational and maintenance budgets; and most recently the regulation of Network Rail.
He was previously Deputy Director, Railway Planning and Performance, having joined ORR in 2009.
Graham's appointment concludes a rigorous external recruitment process.
About ORR
The Office of Rail and Road is the independent safety and economic regulator for Britain's railways and monitor of Highways England.
We are here to ensure the network operates safely, reliably and provides value for taxpayers and customers. We safeguard the public and the workforce by regulating the rail industry's health and safety performance. We hold Network Rail to account – and we require it to provide passengers with a punctual, reliable service. We make sure that train and freight operating companies have fair access to the rail network, and that the market is competitive and fair.