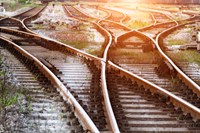 The Office of Rail and Road (ORR) and Network Rail have agreed a new £4.1m 'Rail Reparation Fund' to directly benefit passengers affected by poor performance on Thameslink, Southern and Gatwick Express services, in particular those travelling through London Bridge station.
The initiative comes as ORR publishes its assessment of Network Rail's performance from April to October 2015.
In August, ORR determined that Network Rail had not delivered the reliability and punctuality needed to support Thameslink and Southern train services in 2014-15. ORR gave Network Rail an opportunity to put forward an offer of reparations to directly benefit passengers or face a £2m financial penalty.
Network Rail's financial resources must be focussed on delivering improvements for passengers. We have accepted Network Rail's offer, which is more than double the proposed fine, creating a 'Rail Reparation Fund' of £4.1m to improve services for affected passengers.
The Fund will help passengers by:
Increasing the number of staff at stations served by Thameslink, Southern and Gatwick Express, improving the flow of passengers and the efficiency of train departures thus reducing delays to services;
Employing more track workers to provide rapid response during disruptions; and
Introducing incident management software to help quickly resolve issues that occur on Network Rail's South East route.
ORR Chief Executive Richard Price said:
"We welcome Network Rail's commitment to improve passenger services. The new Fund will enhance the service for passengers affected by this poor performance. ORR's latest analysis shows that Network Rail is working to improve the day-to-day performance on Britain's rail network and its capability to deliver rail projects included in Sir Peter Hendy's recent review. ORR is working with Network Rail to ensure that its plans provide a sustainable basis for improvement for taxpayers, passengers and customers."
ORR's latest Network Rail Monitor shows Network Rail is working to deliver improvement plans for better day-to-day performance on the railways as follows:
There is now strong performance on freight services, which are 1.8 percentage points above target. Network Rail has strengthened its approach to asset management, reducing the number of track faults (down 16.1% compared to last year) and signal failures (reduced by 7.9% compared to last year).
The company has continued to improve safety, and is meeting its level crossings closure targets and plans, with over 140 closed since April 2014.
Network Rail has improved renewals work in key areas, including track (plain line renewals are 4% ahead of plan) and overhead line (32% ahead of plan). The company is also working to catch-up on planned levels of work for renewals of signalling and civils (for example, bridges and earthworks).
However, plans for improving passenger services are yet to deliver expected benefits. The challenge for Network Rail is to identify why, despite the measures it has taken, performance is not improving quickly enough, and tackle the root causes.
To deliver Sir Peter Hendy's recently published plan for enhancing the rail network by 2019, Network Rail must implement its enhancement capability improvement programme.
ORR will hold Network Rail to account for delivering the improvements needed, ensuring the plan is fit for purpose and put into practice. It is a significant and long-term challenge for the company to integrate and embed the improvements into its regular business, but they are essential to protect the investment being funded by taxpayers, passengers and customers.
About ORR
The Office of Rail and Road is the independent safety and economic regulator for Britain's railways and monitor of Highways England.
We are here to ensure the network operates safely, reliably and provides value for taxpayers and customers. We safeguard the public and the workforce by regulating the rail industry's health and safety performance. We hold Network Rail to account – and we require it to provide passengers with a punctual, reliable service. We make sure that train and freight operating companies have fair access to the rail network, and that the market is competitive and fair.