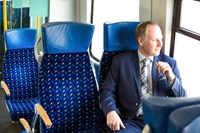 The Office of Rail and Road (ORR) today set out its approach to economic enforcement to reflect its new role on monitoring Highways England as well as reclassification of Network Rail as a public sector company.
Rail passengers, freight operators and road users will be at the heart of ORR's approach to enforcement.
ORR's approach to economic enforcement is based on the core objective of ensuring the best possible outcomes for rail and road users, governments and taxpayers. The policy explains how ORR will engage, monitor, and work to ensure Network Rail, train operators, and Highways England deliver their commitments and plans.
The policies have been developed following extensive consultations with rail and road user groups, governments, and funders. ORR will take a staged approach to enforcement:
Early intervention – ORR will use a range of data and industry information to draw attention to emerging trends and issues that could be a cause for concern in the future. We will flag these early with Network Rail, train operators, Highways England and funders of the road and rail networks to help them manage risks effectively before they become problems for rail or road users.
Engage with industry, funders and rail and road users – We will bring all parties together, where appropriate, to find remedies to emerging issues and concerns.
Ensure enforcement action brings real and positive change – When enforcement action becomes necessary in light of ORR's investigations, we will focus on making a positive difference for rail and road users. For example, by supporting reparations which directly benefit customers who have faced delays, disruptions and unreliable services. ORR recently agreed a £4.1m reparation fund with Network Rail to benefit passengers affected by poor performance on Thameslink, Southern and Gatwick Express services in 2014-15.
ORR Chief Executive Richard Price said:
"Rail passengers, freight operators and road users are at the heart of ORR's work. Our approach to enforcement is forward-looking, using evidence and early engagement to address any issues before they affect rail and road users. Enforcement action is a last resort, where we have to enforce, where other actions have not worked, our focus will be on making a real positive change to benefit directly those affected by poor performance, and incentivise better future results for rail and road users."
About ORR
The Office of Rail and Road is the independent safety and economic regulator for Britain's railways and monitor of Highways England.
We are here to ensure the network operates safely, reliably and provides value for taxpayers and customers. We safeguard the public and the workforce by regulating the rail industry's health and safety performance. We hold Network Rail to account – and we require it to provide passengers with a punctual, reliable service. We make sure that train and freight operating companies have fair access to the rail network, and that the market is competitive and fair.