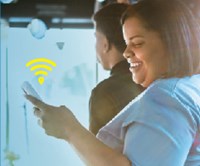 Now Oklahoma City transit customers can say Hi to WiFi. EMBARK recently added free WiFi on all buses, allowing users to check email, text and access the internet. Riders will also enjoy new mobile tools that make navigating the Oklahoma City transit system even easier. Through a partnership with Google Maps, transit users can now easily plan their journey and know exactly when the bus is coming in real-time – all from their mobile device.
"This new technology will make it easier for customers to use the system on the go," said Jason Ferbrache, EMBARK Administrator. "The improvements are part of EMBARK's commitment to make transit the best transportation choice for our community and visitors alike. With the addition of free WiFi and the availability of real-time information through mobile apps like Google Maps and Moovit, it's more attractive than ever to board the bus, relax, surf the web, text your friends and leave the hassle of driving to us."
Google Maps allows riders to easily plan their journey by entering a destination to view the quickest route options and real time departure schedules. Users can also plan future trips by adjusting the departure and arrival times or clicking on the stop nearest to them to know when the next bus will arrive.
"We are pleased to welcome EMBARK to Google Maps. This partnership shows EMBARK's commitment to Open Data and best serving and attracting riders who depend on technology for their everyday needs," said Matt Wong, Strategic Partner Manager at Google. "Together we can provide useful and accurate information to help people quickly get to where they want to go."
This is the first time Open Data has been available for Oklahoma City transit information. Static and real- time transit information is now available to developers and the community through EMBARK's developer portal found on embarkok.com. By making EMBARK's real-time data publicly available, third-party developers such as Google Maps, Moovit, and others are able to enhance and broaden the range of useful tools for Central Oklahoma's public transit commuters.
Over the course of the next 12 months, customer information panels will be added to EMBARK bus stops, detailing how to check the real-time status of their bus via SMS or text. Users may simply text "EMBARK" followed by the three-digit route number and stop number separated with a space. Route and stop numbers can be found at each stop and at www.embarkok.com.
About EMBARK
EMBARK is a division of the Central Oklahoma Transportation & Parking Authority. COTPA, a public trust administered by the City of Oklahoma City, is responsible for providing safe, efficient and convenient public transportation to the citizens of the greater Oklahoma City area.