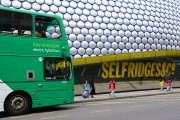 The West Midlands will soon be enjoying better air quality because of cleaner buses. National Express West Midlands has won £3 million of government funding to buy 29 new buses fitted with the latest green technology.
Peter Coates, Managing Director of National Express West Midlands, said:
"As part of the West Midlands Bus Alliance, we have pledged to do all we can to cut emissions and improve air quality in the region. We will be investing this money in 10 hybrid and 19 fully electric buses, and installing electric charging facilities for the vehicles.
"We will start rolling out the 10 Wrights HEV 96 gyro-drives next year. The 19 fully electric single decks will be arriving in 2018 and we're planning to put them onto the Birmingham-Bearwood-Dudley corridor.
"These new buses are in addition to the 156 buses with Euro 6 engines - the highest green standard on the market - that we already bought over the last two years.
"We also have 48 hybrid buses in our fleet - using them means we avoid emitting the equivalent of 30‐34 kg of CO2 every day.
"And we are working with Birmingham City Council on their 100 Bus hydrogen project. 22 fuel cell buses will come into service in 2018 - their only emission will be water vapour. So it's excellent news that they have received funding from this low emission bus scheme for that project."
Making the announcement, Transport Minister Andrew Jones said:
"My message is clear – greener buses are good for passengers and good for British business."
About National Express West Midlands
National Express West Midlands is the biggest single operator bus network in the country, with over 1,600 buses and nearly a million journeys each day.
National Express West Midlands is one of the largest employers in the West Midlands, employing over 5,000 people. National Express signed up to the UK's first Bus Alliance. This partnership will see £150 million invested by operators and partners between now and 2021 to tackle emissions, maximum fares and frequency.