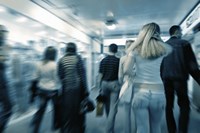 Peak hour bus commuters will now have the option to see how full their bus is before it arrives, giving the option to either jump on or wait for the next service.
Minister for Transport and Infrastructure Andrew Constance today announced Opal data will give real time information to mobile devices, giving more timely information and choice for customers.
"We know there are busy bus routes across the metro area, so letting customers know how busy their service is will enable them to make commuting choices earlier," Mr Constance said.
Travel App 'NextThere' is the first to go live with the new feature today, showing icons on services to indicate the volume of people travelling on the service.
"This is yet another way that Opal data can be practical for everyone. This will show users whether their bus is empty, has seating or is crowded," Mr Constance said.
"We want to give customers as much information as possible, as quickly as possible. This will be particularly useful for some of the busier routes like the 380 from North Bondi, the 400 from Burwood to Bondi Junction and the M61 from Castle Hill to the city.
"We've invested more than $100 million on new and extra bus services for the coming year, so more services are on the way. While the app won't create more seats, it will give people more choice."
The new functionality is a direct result of the Future Transport program launched in April, with more transport apps including TripView, Metrarove, Arrivo and TripGo expected to access the data to provide additional information for their users in future updates.
"We're constantly working to find new data to release to app developers so they can deliver innovative products that make catching public transport easier," Mr Constance said.
About Transport for NSW
Transport for NSW is responsible for improving the customer experience, planning, program administration, policy, regulation, procuring transport services, infrastructure and freight. Transport operating agencies have been freed up to focus on service delivery – providing safe, reliable, clean and efficient transport services.