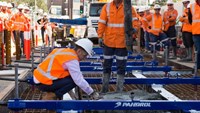 The first set of tracks have been laid for Sydney's $2.1 billion light rail project, marking a major milestone for construction of the line from the CBD to Randwick and Kensington in the south-east.
Premier Mike Baird and Transport Minister Andrew Constance helped pour concrete to cement in place a 60-metre section of track on Anzac Parade in Kensington on Friday – 55 years after the final tracks that made up Sydney's old tramway network were ripped up.
While residents critical of the project have questioned the forecast capacity of the new line, Mr Constance described it as a congestion-buster capable of moving up to 13,000 passengers in both directions between 7am and 7pm.
"We all know congestion is getting worse in Sydney and, with daily trips to the city centre expected to increase by almost 25 per cent by 2031, this will help bust congestion," he said.
Pandrol CDM Track is selected to supply the 14km of embedded rail system in Sydney Light Rail. Our CDM-QTrack® Embedded Rail System is currently deployed in track construction in the city.
CDM QTrack® system has project reference all over the world. The system is composed of resin bonded rubber profiles molded to the shape of the rail and is designed to decuple the rail from the pavement, which provides excellent vibration isolation as well as necessary stray current isolation.
The quick installation method of CDM QTrack® provides a major importance to minimize the repercussion of traffic interruption for pedestrians and cars.