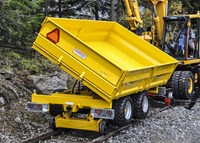 Pandrol launched its innovative Road Rail Trailer (RRT) in 2017 and a number of units have been sold and used on the Swedish and Norwegian railway. Since June this year it has now also been approved for use with full load on roads in Norway.
The RRT empties loads in three directions – at either side of the track and backwards. It can load up to 12 tons, making it ideal for the transportation of material, such as ballast, from a depot out to track.
The trailer can easily be converted to tip right, left and backwards and the tipping angle adjusted to comply with maximum heights on particular work sites. The trailer has been designed for easy connection to the carrier machine and it has its own remote control system that makes it possible to manouvre all functions from the cab. The rail axles can be manouvred individually, have parking/emergency brakes and one axle can pivot to increase safety. The hydraulic tow-bar can be adjusted up and down to make it easy to enter or exit the track.
The RRT can also be used on roads. Its road axles are fitted to a resilient bogie and have four drum brakes as well as a manual parking brake on one axle.
The trailer is equipped with lighting for both road and rail transport and work lights are available as an option.
Erika Berg, managing director of Pandrol's equipment site in Sweden, said: "As a global rail engineering company, with a focus on innovation and efficiency, we are delighted that the Road Rail Trailer has been approved for use with full loads on the roads in Norway. This enables the contractors to make full use of the RRT trailer and fill the trailer in the depot, transport it to the work site by road and then empty its load on the railway. It's a fantastic product which will support operators in building new and maintaining existing track."
About Pandrol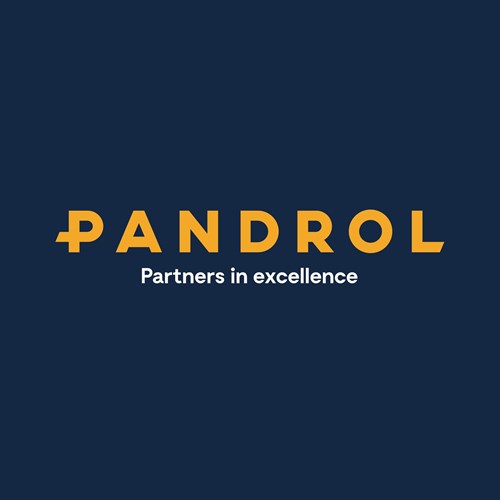 Pandrol defines the industry standard across rail fastening systems and aluminothermic welding. We've created rail infrastructure in more than 100 countries with our products and services extending to designing, developing and manufacturing equipment to make constructing and maintaining railways more efficient. That means we've experienced just about every situation, problem, question and solution before.