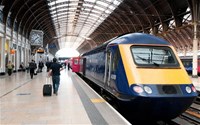 Pandrol has supported the successful delivery of the Klang Valley Mass Rapid Transit (MRT) in Kuala Lumpur which has commenced operation two weeks ahead of schedule
Pandrol Track Systems has developed and delivered the fastening systems for the 51 kilometre Sungai Buloh to Kajang Line, which is the first phase of Klang Valley MRT Project to be implemented. The line begins from Sungai Buloh, located to the north-west of Kuala Lumpur, and runs through the city centre of Malaysia's capital city before ending in Kajang, a fast developing town to the south-east of the city.
Working in close partnership Mitsubishi Heavy Industries (MHI) to understand the railway requirements, Pandrol proposed their VIPA DRS fastening system for the mainline areas, while recommending the VANGUARD system for the high attenuation areas. Both systems provide unbeatable levels of noise and vibration isolation whilst retaining constant wheel/rail conformity. Pandrol also delivered fastening solutions for the third rail which provides 750V DC power supply.
Speaking on Pandrol's involvement on the project Mr Ito, KVMRT Trackworks Project Manager from MHI said;
"Pandrol's continued involvement and support on this fantastic project is greatly appreciated. The solution met the requirements presented by some significant challenges where areas of track are subject to high vibration sensitivity and require a more innovative approach"
The VIPS DRS fastening system is well proven in many metro projects worldwide. It offers low vertical stiffness and is ideally suited to applications where high level of track support resilience is required. It combines the proven technology of the PANDROL e-CLIP in a baseplated system that both offers adjustment and is also easy to maintain.
Pandrol's VANGUARD is a unique rail fastening system with very low vertical dynamic stiffness that leads to high levels of vibration isolation. The significant reduction of vibration and secondary noise makes it ideal for applications in the most sensitive areas to these environmental concerns. As this was the first deployment of the VANGUARD in Malaysia, Pandrol supported the local team on-site demonstrations on how to install and maintain this fastener.
Pandrol's Technical Director Steve Cox said;
"In addition to providing protection from vibration, the VANGUARD fastener has another trick up its sleeve. A version has been designed which will retrofit onto the VIPA-DRS baseplate while maintaining the same rail position and inclination. This means that in the future, if areas of the metro route become developed and the track needs to be upgraded to provide more protection, this can be done speedily, easily and economically."
The completed project will serve a local population estimated at 1.2 million people and is expected to have a daily ridership of approximately 400,000 passengers travelling on 4 car driverless trains each with a capacity of 1200.
About Pandrol
Pandrol defines the industry standard across rail fastening systems and aluminothermic welding. Our products and services extend to designing, developing and manufacturing equipment to make constructing and maintaining railways more efficient.
Our smart control systems increase productivity, monitor track conditions and improve the overall track life cycle.
We also provide a full range of products for urban transportation systems, including products such as aluminum/steel conductor rail systems and rigid catenary systems.