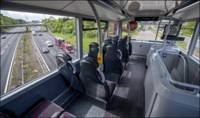 National Express customers, drivers and staff are benefiting from latest generation CCTV technology, thanks to the operator's partnership with smart transport systems provider Parkeon, which has delivered over 1,000 systems across the West Midlands and Dundee.
The two companies have been working together for the last 10 years, with CCTV capability constantly reviewed and uprated through the advance of video capture and data storage technology. The most recent activity included the delivery of 176 systems through bus builders Alexander Dennis and Wrightbus, with 100 additional systems scheduled for 2016.
The on-board technology includes 12 camera inputs recording the highest quality images at extremely high recording rates, augmented by audio capture in the driver cab area. This configuration helps National Express identify and investigate any on-vehicle incidents.
All Parkeon CCTV systems communicate with depot-based shared wireless systems. A key part of the project has been the development of a CCTV operator-user interface that enables the new technology to communicate with previous systems from other CCTV manufacturers via a single application. This ensures that video from every source can be requested, reviewed and prepared as evidence packages through a common process.
"The new CCTV systems have been designed and built to the highest specifications and provide the latest video capture technology, along with 1TB of storage, the equivalent to one month's data. This along with the new CCTV user application provides diagnostics reporting such as camera faults or masked images, to help maintain system integrity for National Express," said Ryan Thomas, Parkeon's Northern Account Manager.
All CCTV operations, including on-bus and depot infrastructure, are supported by Parkeon through a service level agreement.
Colin Saward, Head of Engineering at National Express commented: "CCTV provides peace of mind to our customers, so it's vital that on the rare occasions that incidents occur, we can retrieve high-quality visual data that can be reviewed and acted upon. Our investment in the latest generation technology reflects our commitment to maintain the highest-quality standards in everything we do. The audio recording in the driver's cab area is a real game changer, giving us even more evidence."
Owen Griffith, Managing Director of Parkeon Transportation said: "Nothing is more important than ensuring the safety of people using public transport, so we are proud of the close partnership we have developed with National Express that has enabled us to innovate and bring best-in-class technology and services to this vital area."
About Parkeon
Parkeon has a presence in over 4,000 cities and towns, in 55 countries worldwide, delivering world-class innovative, intelligent transportation and parking solutions for cities on the move.
We employ over 1,000 people – all committed to creating and delivering effective, high quality, urban mobility and parking systems. Our technical and engineering expertise ensures our market leadership introducing new and emerging payment technologies and underpins our innovative products and services.
We have a wide and established global customer base including transit scheme owners, local authorities, transport and parking operators. They rely on Parkeon to provide effective solutions which enhance efficiency and deliver a significant return on investment.
This is why Parkeon is the technology partner of choice, with a proven track record of continued success over 40 years.