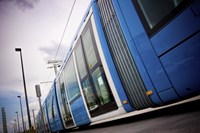 Infrastructure Minister Chris Hazzard has announced a £45 million investment programme that will deliver a modernised ticketing system which is set to transform travel and lead to an increase in the number of people using public transport in line with a key Executive Programme for Government commitment.
At an announcement on September 5, Minister Chris Hazzard said: "The new Programme for Government envisages increasing the number of people using public transport. A high quality public transport infrastructure is fundamental to encouraging people to use our buses and trains. This innovative ticketing system will deliver long term benefits and transform how we access public transport across the region. The current ticketing system was introduced 15 years ago and serves around 80 million passenger journeys every year. This programme will deliver a modern, efficient and convenient ticketing system that will benefit passengers and lead to greater efficiencies. It will improve the passenger experience."
The Minister also announced that Parkeon, a global leader in this industry, has been awarded the contract to design and deliver the new ticketing system.
Chris Conway, Translink Group Chief Executive said: "This is a key milestone in our plans to transform public transport and make it your first choice of travel. We are looking forward to working closely with Parkeon to introduce modern ticketing technologies that will create easier, integrated ticketing options offering customers more choice and convenience. Exciting enhancements will include the acceptance of contactless payment cards on bus, e-purse payments like the London style 'Oyster Card', ticket vending machines, gated rail stations and an online app for customers to manage their accounts and top-up their smartcards. Implementation is expected to start in 2018 with the new Bus Rapid Transit System. Following this, in 2019 we plan to introduce contactless payments for Metro and Ulsterbus services and customers will enjoy further technology enhancements as we phase in this new era in Translink ticketing which will attract more people to use the bus and train as travel options."
Owen Griffith, Managing Director, Parkeon Transportation commented: "I am delighted that Parkeon has been selected to deliver this prestigious new system and am looking forward to working closely with Translink to make sure that the project is a great success. As specialists in transport ticketing solutions, Parkeon has a deep understanding of how the technologies that Translink have selected for this project can bring significant benefits in terms of convenience and ease-of-use for passengers."
Investments such as this help to encourage people to make greater use of public transport and deliver benefits for everyone.
About Parkeon
Parkeon is a major player in the urban mobility industry and supplies a wide and unique range of parking management solutions and public transport ticketing solutions.
Every single solution offered by Parkeon is the result of carefully thought-out design, specially created with the customer and end-user in mind. Our guiding principles are as follows:
Our innovative spirit, taking an overall view of the city and its urban mobility issues: growing urbanisation, increasingly growing traffic congestion, heightened awareness of environmental aspects, and changing trends in city dwellers' behaviour.
Our expertise in research, providing solutions for complex problems with a goal to reach optimum efficiency.
Our local presence, throughout the world, with our local agents being close at hand at our subsidiaries. In order to further complete and enhance our range of products and services, Parkeon also works with the support of an extensive and dynamic network of partners.