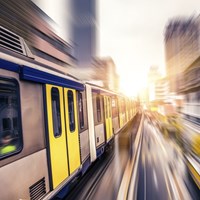 The company has provided 255 ticket vending and smart card recharge machines for Transport for New South Wales (TfNSW) train, light rail and ferry terminals to issue disposable single trip cards and enable subscribers to reload their cards via cash or card. Parkeon was selected for the project following its involvement in helping TfNSW launch Opal across the bus network in 2014, in what is the world's largest geographically defined smart card scheme. Opal operates across a network of 308 train stations, more than 5,000 buses, 40 ferry wharves and 23 light rail stops.
For the Sydney project, Parkeon developed self-service technology based on its Astreo card and cash and Galexio card-only devices for installation across the majority of train, light rail and ferry stations. The machines enable users to top-up their cards at the machines or to buy disposable cards for daily usage. Locations include Central Station, Circular Quay, Bondi Junction and the International Airport, with stations across NSW from Newcastle in the north, the Blue Mountains in the West to Waterfall in the South. Within 8 weeks of the launch phase involving 84 self-service machines, over 160,000 transactions were processed.
Said David Thompson, Director of Parkeon Pty in Australia: "Following on from the success of the 2014 launch, we are delighted to be supporting TfNSW with technology that makes day-to-day travel and smart card top-up easier for passengers across every mode of transport."
Owen Griffith, Managing Director of Parkeon Transportation world-wide, commented: "This project has been successful thanks to the close partnership between all parties including TfNSW, Commonwealth Bank of Australia, Cubic and Parkeon. It is great to see Parkeon technology helping to make passenger journeys a little easier."
Opal has two million customers making more than 50 million trips a month taking advantage of the easier and convenient travel facilitated by the Opal smart card system.
About Parkeon
Parkeon is a major player in the urban mobility industry and supplies a wide and unique range of parking management solutions and public transport ticketing solutions.
Every single solution offered by Parkeon is the result of carefully thought-out design, specially created with the customer and end-user in mind. Our guiding principles are as follows:
Our innovative spirit, taking an overall view of the city and its urban mobility issues: growing urbanisation, increasingly growing traffic congestion, heightened awareness of environmental aspects, and changing trends in city dwellers' behaviour.
Our expertise in research, providing solutions for complex problems with a goal to reach optimum efficiency.
Our local presence, throughout the world, with our local agents being close at hand at our subsidiaries. In order to further complete and enhance our range of products and services, Parkeon also works with the support of an extensive and dynamic network of partners.