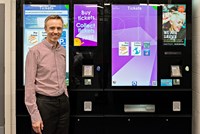 Leading transportation technology company Parkeon has won a prestigious award for a 'ground-breaking' innovation in rail ticket vending.
Parkeon's RetailWall® development has been named in the Transport Ticketing Global Awards as the Ticketing Technology of the Year in recognition of its ability to deliver new levels of information and accessibility in rail retailing. RetailWall® introduces large information screens, touchscreen technology and a whole host of customer-friendly functionality into ticket vending kiosks.
It was an innovation that captured the imagination of the award judges, who commented: "This is a good solution to a major passenger pain point – a ground-breaking improvement to customer service around TVMs. A highly innovative product which is already deployed and making a difference."
Parkeon's latest TVM design provides cheapest fares information via a clear and jargon-free user touchscreen, a journey planning facility, along with live train running information, notices, advertising, news and social media feeds via large display monitors. It also features proximity and height detection systems to meet the needs of all rail users.
Owen Griffith, Managing Director of Parkeon Transportation, commented: "Parkeon has cooperated closely with the Department for Transport and the Rail Delivery Group in drawing up their action plan for TVM improvement, and RetailWall® is the first of the new generation of Parkeon ticketing products that deliver on this. We have listened carefully to the needs of train operating companies, passenger groups and end users and from this have developed a clear, robust and innovative TVM technology roadmap for rail retailing.
"RetailWall® is a key element within our family of new generation TVMs which also includes RetailPanel®, a smaller footprint touchscreen unit offering the access, retailing and communication benefits of RetailWall® in a compact package.
"This prestigious award is testament to the innovative and customer-oriented mindset of our engineers in helping to make journeys better for people using public transport."
About Parkeon
Parkeon is a major player in the urban mobility industry and supplies a wide and unique range of parking management solutions and public transport ticketing solutions.
Every single solution offered by Parkeon is the result of carefully thought-out design, specially created with the customer and end-user in mind. Our guiding principles are as follows:
Our innovative spirit, taking an overall view of the city and its urban mobility issues: growing urbanisation, increasingly growing traffic congestion, heightened awareness of environmental aspects, and changing trends in city dwellers' behaviour.
Our expertise in research, providing solutions for complex problems with a goal to reach optimum efficiency.
Our local presence, throughout the world, with our local agents being close at hand at our subsidiaries. In order to further complete and enhance our range of products and services, Parkeon also works with the support of an extensive and dynamic network of partners.