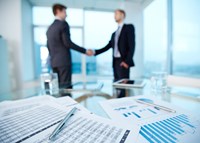 Parkeon, the world's leading parking and ticketing services provider, and Swedish-based Cale, announce they have entered into exclusive negotiations to create the leading global technology company for enabling urban mobility.
More than 5,000 cities in over 70 countries rely on Parkeon's and Cale's robust systems for payment solutions and services.
The two companies plan to join forces to access multidisciplinary skills for the research, development and practical implementation of IoT solutions to offer cities and parking operators all around the world innovative, secure and integrated smart urban mobility services.
The combined group plans to increase investments in its ongoing digital transformation and leverage on its global customer base with over 100 million weekly end-users.
Both the Cale and Parkeon brands would continue to be offered to ensure customers a seamless and reliable service during and after the contemplated transaction.
For the year ended June 30, 2017, Parkeon turned in €220m revenues and Cale €70m revenues. The combined group targets double-digit revenue growth for the upcoming 12 months.
The combination would bolster the two companies' extensive international operations and the enlarged group would have around 1,300 employees largely based in France, UK, Sweden and North America. Furthermore, it would represent a good fit for the two companies' regional strengths where Parkeon has strong market positions in Europe outside Scandinavia and in the rest of the world – particularly in emerging markets, while Cale has a strong presence in Scandinavia and North America. New sales efforts would be targeted on Emerging markets in Asia, Middle East, Africa and South America.
With over 500 R&D engineers earmarked for innovation to consolidate the combined group's market leadership, the contemplated transaction would also add to the palette of technical skills in hardware, software, sensor systems, machine-learning and AI, business Intelligence, Information Security, UI/UX design and Mobile development.
Both Parkeon and Cale hold the highest level of PCI certifications for security and integrity purposes and manage over 400 million credit card and mobile payment transactions on a yearly basis.
Bertrand Barthelemy would remain group CEO and Stéphane Roques would head up the new Smart City business arising from the combination with Cale. Anton Kaya, currently CEO of Cale, would become Chief Operating Officer of the Smart City Business Unit and Owen Griffith would continue to oversee Smart Transport.
The transaction would be implemented by way of contribution of Cale's equity to Parkeon.
Bertrand Barthélemy, Parkeon's CEO, said: "This project seeks to bring about smarter digital-based consumer mobility, stability for our customers, and growth for our business and employees. I am proud and look forward to putting our planned combination into practice. This would be a big step forward in the growth of our companies and for the future of the Smart City and urban mobility industry, while striving to create more pleasant, environmentally-friendly and safer cities where the economy is more vibrant and it is easier to move around. We would be able to build on our world leadership in digital urban mobility services. lt would very important that we proceed with the transaction while safeguarding the corporate culture of our two companies and jobs in our industry."
Anton Kaya, Cale's CEO, added: "The combination of the top two companies in our industry would provide an amazing opportunity to bring together global scale, integrated technology, and diverse distribution to create a true market leader. This would represent a new page in our history: looking forward, together we would step up our ongoing campaign to digitalize our service offering. We would strive to provide innovative and secure services for our customers, who have trusted us over the years, while ensuring an exciting future for our employees".
The proposed transaction is subject to consultation of Parkeon's works council, and would be completed by the beginning of 2018.
About Parkeon
Parkeon is a major player in the urban mobility industry and supplies a wide and unique range of parking management solutions and public transport ticketing solutions.
Every single solution offered by Parkeon is the result of carefully thought-out design, specially created with the customer and end-user in mind. Our guiding principles are as follows:
Our innovative spirit, taking an overall view of the city and its urban mobility issues: growing urbanisation, increasingly growing traffic congestion, heightened awareness of environmental aspects, and changing trends in city dwellers' behaviour.
Our expertise in research, providing solutions for complex problems with a goal to reach optimum efficiency.
Our local presence, throughout the world, with our local agents being close at hand at our subsidiaries. In order to further complete and enhance our range of products and services, Parkeon also works with the support of an extensive and dynamic network of partners.