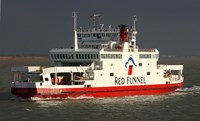 Passengers using one of the busiest ferry services in England are benefiting from easy access to multi-modal travel, thanks to innovative ticketing technology developed by Parkeon as part of a new smartcard scheme covering South Hampshire.
Red Funnel Ferries, which runs across the Solent between Southampton and the Isle of Wight, has installed Parkeon ticket vending machines (TVMs) and passenger validation terminals in four ticket offices.
The technology – located at West Cowes, East Cowes and in Terminals 1 and 2 in Southampton – will enable Red Funnel customers to participate in the new Solent Go ITSO scheme, providing joined-up access to buses and ferries in the South Hampshire region via a single smartcard.
The new Parkeon TVMs will also give Island customers travelling via Southampton the option to purchase through-tickets to any UK rail station, including buying one-day travelcards, and enable them to collect tickets bought via online retailers.
Jonathan Green, Red Funnel Ferries' Marketing and Communications Director, says: "We are excited to be part of the Solent Go travelcard scheme, which will improve the accessibility of the Isle of Wight and enable Red Funnel customers to benefit from integrated ticketing within South Hampshire.
"Rail customers are also set to benefit as the investment will make it even easier to purchase through-tickets to or from East Cowes and West Cowes".
Owen Griffith, Managing Director at Parkeon commented: "We are delighted to have been able to work with Red Funnel on this project – we are increasingly seeing how innovation and partnership can deliver more integrated transport networks and make journeys a little easier for passengers."
About Parkeon
Parkeon is a major player in the urban mobility industry and supplies a wide and unique range of parking management solutions and public transport ticketing solutions.
Every single solution offered by Parkeon is the result of carefully thought-out design, specially created with the customer and end-user in mind. Our guiding principles are as follows:
Our innovative spirit, taking an overall view of the city and its urban mobility issues: growing urbanisation, increasingly growing traffic congestion, heightened awareness of environmental aspects, and changing trends in city dwellers' behaviour.
Our expertise in research, providing solutions for complex problems with a goal to reach optimum efficiency.
Our local presence, throughout the world, with our local agents being close at hand at our subsidiaries. In order to further complete and enhance our range of products and services, Parkeon also works with the support of an extensive and dynamic network of partners.