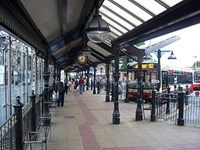 The launch of the smart wall took place at Harrogate Station – one of Northern Rail's biggest stations – where the RetailWall® has been introduced as the futuristic focal point.
RetailWall® was developed at Parkeon's Poole Engineering centre with the aim to make the buying and collection of tickets quicker and easier as well as more user-friendly. The new RetailWall® mirrors the latest tablet functionality with a touchscreenwall which can be used by customers to both purchase tickets for their journey, and to access local information. The smart wall uses proximity and height detection technology to automatically adjust the screen to match the eye level of the user, improving accessibility for taller people and wheelchair users. This proximity detector will automatically detect when a person approaches the RetailWall®, switching the screen from 'Advertising' to 'Ticketing' mode.
RetailWall® as well as providing key benefits to customers, can also offer significant benefits to Train Operating Companies (TOCs). The smart wall's large video screens can be used to show elements such as train running times, weather and local area information. Advertising can also be included to provide revenue to the TOCs, and there is an additional option to include a smaller video screen which can link up to a Call Centre which will provide customers with remote assistance as and when required.
The technology will initially be focused on helping Parkeon's customers improve information and service around their ticket retailing, though the interest that has been indicated by other customers and sectors could see the future roll-out of the innovation in other environments. There has been an interest from airports in using the RetailWall® to synchronise screens showing information with flight arrival times, and to show the information in the language based on the arriving plane.
About Parkeon
Parkeon is a major player in the urban mobility industry and supplies a wide and unique range of parking management solutions and public transport ticketing solutions.
Every single solution offered by Parkeon is the result of carefully thought-out design, specially created with the customer and end-user in mind. Our guiding principles are as follows:
Our innovative spirit, taking an overall view of the city and its urban mobility issues: growing urbanisation, increasingly growing traffic congestion, heightened awareness of environmental aspects, and changing trends in city dwellers' behaviour.
Our expertise in research, providing solutions for complex problems with a goal to reach optimum efficiency.
Our local presence, throughout the world, with our local agents being close at hand at our subsidiaries. In order to further complete and enhance our range of products and services, Parkeon also works with the support of an extensive and dynamic network of partners.