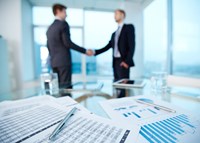 We are pleased to announce that Astorg communicated on 15th April 2016 its acquisition of a majority stake in Parkeon group, in partnership with Parkeon's managment team.

Astorg has an investment track record of 17 years as an independent fund management partnership. Since 1998, the organisation has concluded 33 transactions. The Astorg portfolio companies all share the same feature to be leader on their market, very specialised and fast-growing. Beyond capital investments, Astorg works alongside businesses in financing their growth and their innovations. Astorg is one of the best European investors thanks to its performances.
The management team continues to be an important shareholder of the Group and will maintain the same strategy it has been following since 2011.
This agreement opens an exciting new chapter for the company. It will allow us to accelerate and reinforce our strategy of innovation and internationalization to serve the increasing needs of municipalities all over the world to deal with congestion and pollution. With Astorg's strong track record in developing the companies it invests in, we are confident to take the business to a new level, while always remaining attentive to our clients.
About Parkeon
Parkeon is a major player in the urban mobility industry and supplies a wide and unique range of parking management solutions and public transport ticketing solutions.
Every single solution offered by Parkeon is the result of carefully thought-out design, specially created with the customer and end-user in mind. Our guiding principles are as follows:
Our innovative spirit, taking an overall view of the city and its urban mobility issues: growing urbanisation, increasingly growing traffic congestion, heightened awareness of environmental aspects, and changing trends in city dwellers' behaviour.
Our expertise in research, providing solutions for complex problems with a goal to reach optimum efficiency.
Our local presence, throughout the world, with our local agents being close at hand at our subsidiaries. In order to further complete and enhance our range of products and services, Parkeon also works with the support of an extensive and dynamic network of partners.