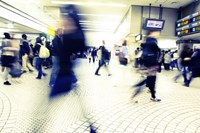 Seamless, integrated, value adding…the power of data when aligned to digital technology is having a transformative effect on the UK's public transport landscape.
From contactless EMV to new retail platforms and cloud-based back office architectures, systems specialists Parkeon Transportation is leading the way in harnessing the benefits of the digital era to optimise operator efficiency and improve the end-to-end experience for passengers.
The award-winning company is the preferred automatic fare collection technology partner for public transport operators across the UK and most recently played a pivotal role in two of the biggest and most innovative contactless schemes outside of London.
Working with its long-term customer Arriva, Parkeon developed and applied contactless payment systems via its Wayfarer200 ticketing platform – utilising the new Axio 4c secure card reader – on buses serving the North East. The rollout started with bus passengers in the Tees Valley and will be available on all of Arriva's 491 buses in the North East by Easter.
This investment in contactless as part of a digital technology strategy is one of the ways Arriva is removing barriers to travel wherever they exist and improving the passenger experience. Arriva has also developed a mobile ticketing app, making it even easier for passengers to buy mobile tickets before they board.
The application of digital systems on and off bus is positioning Parkeon at the forefront of technologies that will help deliver the industry's vision of contactless travel across the board by 2022.
"But contactless is just the beginning of the digital revolution," says Owen Griffith, Managing Director of Parkeon Transportation.
"We're now working on new architectures that will make ticketing truly seamless for end users through fully integrated platforms capable of bundling apps, payment options and automatic 'best-fare' functionality into one holistic solution. This will not only make multi-modal travel easier for individuals than ever before, with the environmental benefits that this brings, it will also enable them to tailor the services they receive to meet their individual requirements, for example through account-based ticketing and personalised travel information."
In addition, Parkeon's digital pathway for transport operators will integrate back office, payments, hosting and inspection requirements while simultaneously providing bespoke analytics to sharpen marketing activity and improve scheduling decisions…helping organisations to become even more customer-centric.
In addition to working with Arriva, Parkeon partnered with Transdev Blazefield for the roll-out of its contactless scheme in Yorkshire.
Says Owen Griffith: "Transdev Blazefield has started on a journey that will enable customers to access services more easily using a payment methodology that is becoming increasingly popular in every area of daily life. The use of contactless bank cards alongside Apple Pay and Android Pay on mobile phones offers an improved passenger experience which I hope will encourage more people to travel by bus."
About Parkeon
Parkeon is a major player in the urban mobility industry and supplies a wide and unique range of parking management solutions and public transport ticketing solutions.
Every single solution offered by Parkeon is the result of carefully thought-out design, specially created with the customer and end-user in mind. Our guiding principles are as follows:
Our innovative spirit, taking an overall view of the city and its urban mobility issues: growing urbanisation, increasingly growing traffic congestion, heightened awareness of environmental aspects, and changing trends in city dwellers' behaviour.
Our expertise in research, providing solutions for complex problems with a goal to reach optimum efficiency.
Our local presence, throughout the world, with our local agents being close at hand at our subsidiaries. In order to further complete and enhance our range of products and services, Parkeon also works with the support of an extensive and dynamic network of partners.