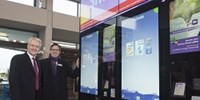 Parkeon's new interactive RetailWall® ticket vending technology has helped speed-up on-concourse self-service times in the first 4 months of operation at Northern Rail's Harrogate station.
The train operating company (TOC) says that the introduction of RetailWall®, which was officially launched at Harrogate station by Andrew Jones MP, Parliamentary Under Secretary of State for Transport, has made it quicker and easier for passengers to travel. Recent reports show that RetailWall® has substantially improved transaction times since the innovation was installed, handling more transactions than conventional TVMs at the station due to customer preference and ease of use.
Says Owen Griffith, Managing Director of Parkeon Transportation: "A recent report by the Office of Rail and Road (ORR) shows that rail journeys across Britain have more than doubled in 20 years. While this is good news for the rail industry, it does create challenges for TOCs in delivering high quality information and support and speedy ticket purchase and fulfilment in a concourse environment. RetailWall® helps to address these requirements by using innovative technology to meet the needs of customers and TOCs."
RetailWall® is over three metres high and two metres wide, and integrates two touchscreen TVMs to make buying and collecting tickets quick and easy. A key feature of RetailWall® is the use of proximity and height detection technology to automatically orientate the screen display to match the user's eye level, ensuring accessibility for every member of the community.
Large video screens can be used to communicate train running times, social media updates, news, weather and local area information. There is also an option to include smaller video screens to provide supplemental travel information or to link to a call centre, giving customers remote assistance when they need it. In addition, RetailWall® can carry advertising and, as such, can be a revenue generator for TOCs.
"The focus is on helping TOCs use RetailWall® to improve information and service around ticket retailing – a recurring theme in the rail sector in recent times, with ORR, Passenger Focus and the Rail Delivery Group all acknowledging that more needs to be done," says Owen Griffith.
Richard Allan, Commercial Director, for Northern Rail, says: "This is a fantastic innovation for our customers to make it quicker and easier to buy their travel. It is the centrepiece of the new-look Harrogate station and will be a great focal point for commuters and visitors arriving in the town."
About Parkeon
Parkeon is a major player in the urban mobility industry and supplies a wide and unique range of parking management solutions and public transport ticketing solutions.
Every single solution offered by Parkeon is the result of carefully thought-out design, specially created with the customer and end-user in mind. Our guiding principles are as follows:
Our innovative spirit, taking an overall view of the city and its urban mobility issues: growing urbanisation, increasingly growing traffic congestion, heightened awareness of environmental aspects, and changing trends in city dwellers' behaviour.
Our expertise in research, providing solutions for complex problems with a goal to reach optimum efficiency.
Our local presence, throughout the world, with our local agents being close at hand at our subsidiaries. In order to further complete and enhance our range of products and services, Parkeon also works with the support of an extensive and dynamic network of partners.