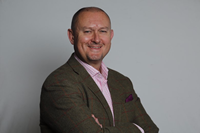 Leading public transport retailing systems provider Parkeon has appointed David Wearmouth as Head of Sales, UK Rail, to build on its rapid expansion in the rail industry.
David joins Parkeon from Conduent Parking & Public Safety Solutions, formerly Xerox International Transportation Group, where he was UK Business Development Director responsible for customer relationships and revenue growth.
In his new role, he will be leading Parkeon's engagement with current and prospective rail franchise holders and industry stakeholders to widen the company's technology reach, leveraging his experience in software sales and urban mobility.
Since entering the rail market in 2009, Parkeon has grown to become one of the UK's most successful self-service retailing suppliers, thanks to innovations such as the IRIS® video multiplexing system, and the award-winning RetailWall®, which integrates dynamic touchscreen based devices with customer information screens.
Now, in addition to enhancing its hardware leadership, the company is developing a wide range of new generation ticketing and fare collection platforms, including account-based ticketing, with the potential to transform the passenger experience and improve operator efficiency.
"I am very excited to be joining a company that has moved from industry entrant to a market leader in rail retailing systems in just a few years," says David.
"Government and train operating companies are placing the passenger experience at the heart of their future strategies and are looking to companies such as Parkeon to help deliver the technology pathways that will make travel easier and more joined up.
"There are some great opportunities in the pipeline and Parkeon is well positioned to build on its technological success to date as a systems provider serving multi-modal networks around the world."
About Parkeon
Parkeon is a major player in the urban mobility industry and supplies a wide and unique range of parking management solutions and public transport ticketing solutions.
Every single solution offered by Parkeon is the result of carefully thought-out design, specially created with the customer and end-user in mind. Our guiding principles are as follows:
Our innovative spirit, taking an overall view of the city and its urban mobility issues: growing urbanisation, increasingly growing traffic congestion, heightened awareness of environmental aspects, and changing trends in city dwellers' behaviour.
Our expertise in research, providing solutions for complex problems with a goal to reach optimum efficiency.
Our local presence, throughout the world, with our local agents being close at hand at our subsidiaries. In order to further complete and enhance our range of products and services, Parkeon also works with the support of an extensive and dynamic network of partners.