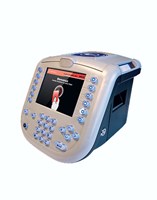 Ten years after Transdev Blazefield launched the UK's first-ever ITSO scheme – powered by Parkeon technology – the bus operator is set to become the first company in Britain to benefit from Parkeon's new generation ticketing platform…the Wayfarer6.
Transdev has ordered 180 of the latest driver console to drive its automatic fare collection system and to act as a real-time data hub linked to a new centralised cloud-based back office developed by Parkeon. The investment will see the functionality-packed Wayfarer6 installed across the operator's entire fleet in Lancashire, supporting the NoWcard concessionary scheme as well as Transdev's own commercial ITSO products.
At the same time, Transdev is to uprate its existing Wayfarer200 ticketing platform across its York operations, enhancing 277 consoles with real-time data capability to take advantage of the new combined back office resource.
Richard Jackson, Transdev Blazefield's Development Director, commented: "In the decade since we blazed a trail for ITSO, there have been huge advances in the way that technology is enabling operators to optimise efficiency and enhance payment options, information and access to travel for passengers. Our investment in the new Wayfarer6 system is key to our plans for the future, opening up new areas of functionality, speeding up transactions and improving our data collection and analytics.
"Most importantly, however, it will enable us to introduce innovations using real-time information and contactless payments that will add significant value to our customers."
The Wayfarer6 installation programme for Transdev Blazefield is scheduled for completion by Easter 2016. The operator has also announced that the uprated Wayfarer200 console will feature in an EMV contactless card reader trial on its popular route 36 from York to Sutton-upon-Derwent towards the end of the year.
Owen Griffith, Managing Director of Parkeon Transportation, said: "The decision by Transdev to invest in the Wayfarer6 is testament to the contribution that Parkeon smart transport technology has made over the last 10 years – and we are delighted that we will be continuing the journey together into the future.
"The new platform, developed at our Poole engineering centre, is built on open systems and standards to enable public transport operators to take advantage of emerging technologies. However, it is also backward compatible with Wayfarer200 software, offering reassurance to companies that their investment is both future-proof and aligned to existing systems."
The Wayfarer6 is BSOG uplift compliant and is Parkeon's most recent addition to its Smart Transport portfolio. It includes a high performance 32 bit processor for fast transaction processing and printing, multi-format contactless capability – including EMV contactless bank cards and ITSO – along with barcode reading, 4G connectivity, location-aware SatNav/route learning, and a touchscreen option. Additionally, it offers automatic destination updating, 2-way driver messaging, RTI and fleet management, along with sophisticated third party integration covering scheduling systems, vehicle telematics, voice radio systems, CCTV and passenger Wi-Fi.
In addition, the Wayfarer6 communicates with Parkeon's new cloud-based back office, offering web-based reporting and system configuration, with flexible options for client hosting and managing operator systems. In the case of Transdev, this will deliver a centralised back office covering Blazefield and York operations, with in-depth data analytics and reporting available through Parkeon's Merit Cube software.
About Parkeon
Parkeon has a presence in over 4,000 cities and towns, in 55 countries worldwide, delivering world-class innovative, intelligent transportation and parking solutions for cities on the move.
We employ over 1,000 people – all committed to creating and delivering effective, high quality, urban mobility and parking systems. Our technical and engineering expertise ensures our market leadership introducing new and emerging payment technologies and underpins our innovative products and services.
We have a wide and established global customer base including transit scheme owners, local authorities, transport and parking operators. They rely on Parkeon to provide effective solutions which enhance efficiency and deliver a significant return on investment.
This is why Parkeon is the technology partner of choice, with a proven track record of continued success over 40 years.