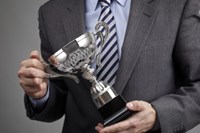 Parsons recently received a 2016 Grand Award in the transportation category from the American Council of Engineering Companies of Arizona (ACEC AZ) for its work on Valley Metro's Central Mesa Light Rail Extension project. The award recognizes engineering firms for successful delivery of complex projects that demonstrate an exceptional degree of innovation, achievement, and value.
The $195 million Central Mesa Light Rail Extension design-build project is a 3.1-mi eastward expansion of the existing Central Phoenix/East Valley Light Rail Transit (LRT) line from its terminus in west Mesa, AZ, to the city's emerging downtown. Operating down the center of Main Street on embedded double tracks in a dedicated guideway, the new rail line connects to the city's business, arts, and entertainment district; Mesa City Plaza; new educational institutions; and special events and activities in adjacent Tempe and Phoenix, AZ.
"This was the first extension of the Valley Metro rail line since its opening in December 2008," said Michael Johnson, Parsons Group President. "We were honored to bring our decades of light rail design experience to this outstanding project, which is a significant stimulus to Mesa's downtown economy. Parsons' project team members are thrilled to receive this prestigious award in recognition of their hard work and dedication."
In addition to the new guideway, the project included four stations, three traction power substations, five crossovers, a pocket track, a 445-car park-and-ride facility, interlocking signals, train and traffic signals, communications, an overhead contact system, and extensive rehabilitation and reconstruction of utilities, storm drainage systems, sidewalks, street lighting, and roadways—all without significant traffic disruption or impacts to the business community.
With the LRT extension to Mesa's historic downtown, Valley Metro Rail wanted to create a sense of destination and arrival at a special locale. The project team achieved this goal by incorporating major aesthetic components, not only through station and rail design, but also with nearly $800,000 in public art by local artisans. Each passenger station and power substation features a unique art centerpiece that integrates with its surrounding area while creating a cohesive ambiance throughout the entire 3.1-mi extension.
The Central Mesa Light Rail Extension project involved tightly fitting the new rail line within the existing intricacies of the downtown infrastructure. This challenge was coupled with a compressed project delivery schedule and an annual 8-month construction moratorium on one-third of the project site. With careful work scheduling and coordination, a streamlined web-based computing process, plus cooperation between all stakeholders, the project was completed 6 months ahead of schedule within the planned budget.
The project has earned several awards, including 2016 Project of the Year from the American Public Works Association, Arizona Chapter, and the 2016 Crescordia Award for Art in Public Places from Arizona Forward.
ACEC AZ is a member organization of the American Council of Engineering Companies and boasts more than 200 member firms. The organization's mission to assist members in achieving higher professional, ethical, business, and economic standards enables member firms to provide quality consulting engineering services for their clients and the public.
About Parsons
Parsons is a technology-driven engineering services firm with more than 70 years of experience in the engineering, construction, technical, and professional services industries. The corporation is a leader in many diversified markets with a focus on infrastructure, defense, and construction. Parsons delivers design/design-build, program/construction management, systems design/engineering, cyber/converged security, and other professional services packaged in innovative alternative delivery methods to federal, regional, and local government agencies, as well as to private industrial customers worldwide.