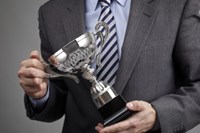 Parsons Parsons is pleased to announce that Engineering News Record Mountain States (ENR Mountain States) has awarded its 2016 Colorado Project of the Year Award to the Denver International Airport (DEN) Hotel and Transit Center after the project recently won ENR Mountain States' Best Airport/Transit Project. The regional publication also honored the I-70 Eisenhower/Johnson Memorial Tunnels (EJMT) Fixed Fire-Suppression System (FFSS) in Colorado with a Best Specialty Construction Award and an Award of Merit for Excellence in Safety.
Parsons delivered project management, design, and construction support services for the DEN transit center and airport rail station. For the EJMT FFSS design-build project, Parsons provided program management support to the Colorado Department of Transportation, including procurement as well as project management and oversight services.
"Parsons appreciates the partnerships we have with our customers, which allow us to deliver innovative projects that add value to their communities and enhance people's lives," said Michael Johnson, Parsons Group President. "We're honored to have contributed to these award winning projects. I congratulate Denver International Airport, the City and County of Denver, the Colorado Department of Transportation, and the various project teams—all of which are recognized with these prestigious awards."
The DEN Hotel and Transit Center consists of independent yet physically integrated facilities, including the 519‑room Westin hotel and conference center, a public plaza for dining and entertainment, and a public transit center that includes a centralized bus pick-up/drop off area and a commuter rail station connecting the airport with downtown Denver.
The EJMT FFSS is the country's first comprehensive FFSS. The project involved the retrofit of a customized FFSS into the existing 1.7‑mi‑long twin tunnels that sit at an 11,000‑ft elevation under the Loveland Pass. The system not only enhances motorist safety, it also protects the tunnel itself, which is a critical asset to the Colorado highway system.
ENR Mountain States' annual Best Projects award program honors the best regional construction projects and the companies that designed and built them. The Mountain States region includes Utah, Idaho, Montana, Colorado, Wyoming, Kansas, Nebraska, North Dakota, and South Dakota. Featured in the October p;24, 2016 issue of ENR Mountain States, both the EJMT FFSS and DEN Hotel and Transit Center projects will be eligible for ENR's Best of the Best Awards, a national competition among the best in category winners of all nine ENR award regions.
About Parsons
Parsons, celebrating more than 70 years of growth in the engineering, construction, technical, and professional services industries, is a leader in many diversified markets with a focus on infrastructure, defense, and construction. Parsons delivers design/design-build, program/construction management, systems design/engineering, cyber/converged security, and other professional services packaged in innovative alternative delivery methods to federal, regional, and local government agencies, as well as to private industrial customers worldwide.