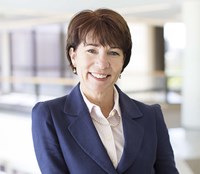 Virginia Grebbien, Parsons Corporate Executive Vice President & Chief of Staff, will join Los Angeles Mayor Eric Garcetti, City Council Members as well as business and civic leaders this week on a trade mission to Asia. Ms. Grebbien will join the delegation for meetings in Vietnam and Hong Kong.
"Parsons has nearly 15,000 employees in over 100 offices, engaged in projects in 27 countries, helping regions and cities around the world to grow their economies. I look forward to bringing our global expertise to the delegation's efforts.," said Ms. Grebbien. "I am honored to join the delegation and as a member of the board of directors of the Los Angeles Business Council help to represent the strength and diversity of the Los Angeles economy."
During the trip, Ms. Grebbien will meet with Mayor Garcetti and Ho Chi Minh City's Mayor Nguyen Thanh Phong to discuss smart cities solutions. Parsons is an industry-leader in providing cities with smart solutions that securely integrate information technology with infrastructure. The Asia-Pacific infrastructure market is expected to expand by 7‑8% a year over the next decade, reaching 60% of the world total by 2025. Parsons has a history of developing intelligent transportation systems (ITS) in Hong Kong, including the Traffic Control and Surveillance System for the Tate's Cairn Tunnel.
"Los Angeles is a global city with partners and interests all over the world — and we have a special bond with our neighbors on the Pacific Rim," said Mayor Garcetti. "Tourism and trade with Asia are integral to our local economy, international investment creates jobs for Angelenos, cultural exchange brings our people closer together, and cooperation on the biggest challenges will determine the future of the planet. I am thrilled about the progress we will make on this trade mission and look forward to seeing our friends in Tokyo, Seoul, Hanoi, Ho Chi Minh City, and Hong Kong."
About Parsons

Parsons is a digitally enabled solutions provider focused on the defense, security, and infrastructure markets. With nearly 75 years of experience, Parsons is uniquely qualified to deliver cyber-physical security, advanced technology solutions, and other innovative services to federal, regional, and local government agencies, as well as to private industrial customers worldwide.