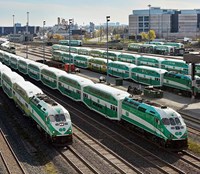 Parsons has begun providing technical advisory services for Metrolinx's Enhanced Train Control and Conventional Signaling (ETCCS) project related to Metrolinx's 10-year GO Transit expansion program that will deliver $13 5 billion in capital projects and $7 billion in state-of-good-repair works. This program will transform the GO Transit rail network with electrified trains running every 15 minutes or better, all day and in both directions, within the most heavily travelled sections of the GO network across Ontario's Greater Toronto and Hamilton Area (GTHA) — home to nearly 7 million people and one of the largest and fastest-growing urban regions in North America.
The GO Transit network spans more than 4,000 km2 and carries 200,000+ commuters each day through more than 40 municipalities. As part of the GO expansion component of Metrolinx's Regional Transportation Plan, Metrolinx plans to modernize southern Ontario's GO Train system by adding stations, increasing system capacity, introducing 25-kV electrification, replacing its diesel locomotives with electrified locomotives, immunizing its existing fixed-block signaling system to the 25-kV traction power supply system, and deploying Enhanced Train Control (ETC) on the GO corridor and its train fleet.
"We welcome this opportunity to continue our long-standing relationship with Metrolinx, helping them advance the quality of life for all GTHA residents and visitors," said Mike Johnson, Parsons Group President. "Parsons has extensive enhanced train control experience, and this technology increases both operational capacity and safety."
Through its GO expansion project, Metrolinx is bringing more train trips to every GO rail corridor to move people across the GTHA faster and easier, quadrupling the number of trips outside of weekday rush-hour—including evenings and weekends—and doubling the number of trips during weekday rush hours.
As Metrolinx specifies, procures, and deploys ETC and conventional signaling upgrades, Parsons will provide various services, including design, procurement support, system engineering, system integration and migration management, testing, and commissioning services.
About Parsons
Parsons is a technology-driven engineering services firm with more than 70 years of experience in the engineering, construction, technical, and professional services industries. The corporation is a leader in many diversified markets with a focus on infrastructure, industrial, federal, and construction. Parsons delivers design/design-build, program/construction management, and other professional services packaged in innovative alternative delivery methods to federal, regional, and local government agencies, as well as to private industrial customers worldwide.